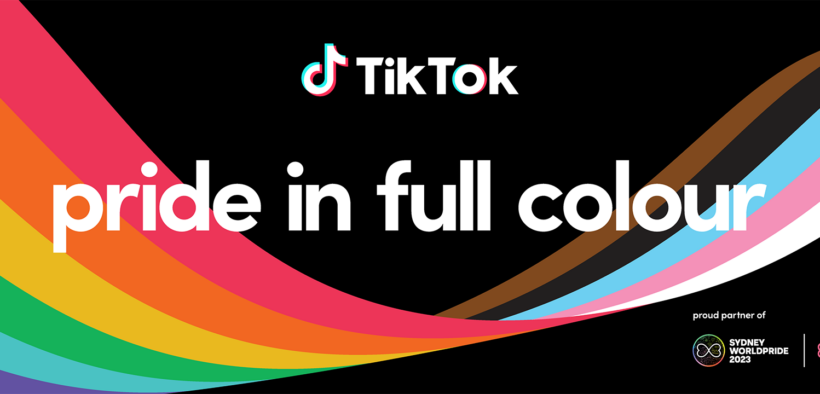 The annual Sydney Gay and Lesbian Mardi Gras is a chance for the LGBTQIA+ community to gather in a "colourful explosion of self-expression, celebration and protest", according to its organisers.
While the event was built on community activism, brands are now coming to the party to demonstrate support for – and capitalise on – the rainbow community.
TikTok is one such brand. After two years as a partner for the Sydney Gay and Lesbian Mardi Gras, the video-sharing social platform is stepping up to Major Partner status in 2023.
Running from 17 February until 5 March, this year's Mardi Gras offers an especially lucrative opportunity for amplification across the world stage. Sydney won the bid to host WorldPride in 2023 – a first for the Southern Hemisphere – and it will run concurrently with Mardi Gras. 
In total, organisers expect over 200 events will be staged as part of the broader Sydney WorldPride Festival, to be enjoyed by over 500,000 people.
TikTok livestreams WorldPride
As a Major Partner for both the Sydney Mardi Gras and WorldPride, TikTok will be livestreaming the event to the world, as well as offering the in-app hub #ForYourPride. The platform has also announced a string of Pride Ambassadors. These include Sugar and Spice, of RuPaul's Drag Race and TikTok fame, and Rainbow History Class, which aims to educate the TikTok community about queer and trans history they didn't learn in school.
"We are proud that TikTok is an open and inclusive platform, and it's a privilege to be able to shine a light on the amazing creators across who are at the heart of the LGBTQIA+ community on TikTok," says TikTok Australia and New Zealand's general manager Lee Hunter.
"This partnership with Sydney WorldPride will allow us to take this incredible celebration to a global audience, who will be able to tune in to catch all the action on TikTok."
Sydney Gay and Lesbian Mardi Gras CEO Albert Kruger says he is proud of the partnership as TikTok is a "hub for creativity and self-expression".
"As we move into Sydney WorldPride, we're excited to see the colour and energy of TikTok come to life throughout the festival, bringing representation and visibility to audiences across the globe," he says.