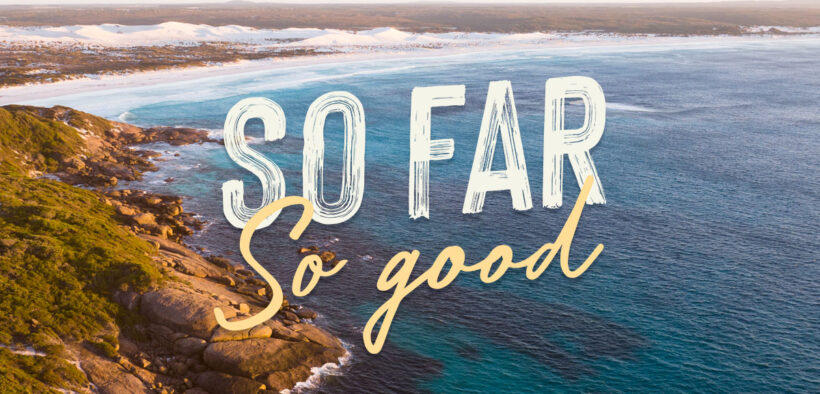 Two popular influencers from Western Australia have become 'unfluencers' while travelling in Esperance on the state's south coast. They're deliberately not posting about the region's attractions as part of an unusual tourism campaign developed by 303 MullenLowe and Mediahub Perth for regional tourism organisation Australia's Golden Outback (AGO). 
The integrated campaign showcases Esperance as the perfect antidote to always-on city life, framing its distance from major cities – and patchy internet – as a means for true disconnection. Using the tagline 'So Far, So Good', it aims to promote travel to the region in the quieter autumn and spring seasons.
Influencers become 'unfluencers'
To kick the campaign off, local WA influencers Rahnee Bransby and Zak Hasleby toured Esperance. But in a campaign twist, they pledged not to post or use social media, giving them the chance to 'truly disconnect', and instead connect with the location and people they are with.
They did, however, post about their holidays after the fact, sharing images supplied by AGO to their socials.
The campaign hits the airwaves
As part of a campaign partnership with the radio station Nova 937, the influencers checked in with Breakfast host and Esperance local Nat Locke before and after their trips. Nova is also encouraging all of Perth to 'Pledge to Not Post' to go into a draw to win an all-expenses-paid trip to Esperance.  Both the campaign and competition will be promoted through the partnership (and ironically on social media).
"Talking about the impact the social media 'break' had on our unfluencers has also generated strong conversation among people that might otherwise only see the classic 'beach shots' that Esperance is so famous for," says Mediahub Perth's general manager Kylie Macey.
"Taking away the ability to post while visiting Esperance also meant we found other ways to reach our audiences, with radio, owned and earned media and fast-to-market content becoming more of a focus. We're excited to see how far and wide the reach of our unfluencers will be."  
Promoting different facets of WA
303 MullenLowe and Mediahub Perth previously worked with representatives of AGO as part of the 'Queens on the Edge' campaign to promote the South West Edge.  
AGO CEO Marcus Falconer says it's sometimes hard to differentiate between regions to visit in WA. Esperance is already known across the globe for its beaches, so it became important to promote a broader picture of what the town has to offer.  
"What makes Esperance particularly special is its distance," explains Falconer. 
"Yes, it's a long way from Perth. Yes, its internet is sometimes patchy. But it's also a place where people can go to breathe, and enjoy both an incredible region while connecting with loved ones and nature. And that's what this campaign communicates so effectively, that it's so far – it's good. We can't wait for people to put their phones away, and see for themselves." 
Read about Marketing's favourite tourism campaigns of 2022.