16,000 people are battling in Virgin Mobile's virtual 'Game of Phones'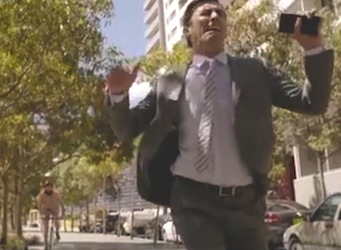 When Virgin Mobile Australia launched its integrated brand campaign 'Game Of Phones' two weeks ago, it challenged players to hunt for almost $200,000 worth of prizes in the a virtual world through a mobile app game.
The ultimate winner will be crowned the King and rewarded with a $50,000 trip to the destination of their choice.
So far in the competition the game has had 20,000 downloads with 16,500 active users, landing the 'Game of Phones' app number 15 in the Android play chart this week. The battle will end on 8 December, and the King will be crowned on 10 December.
The game challenges players to hunt for virtual prizes found on the Game Of Phones' app map screen on their Android or iOS smartphone. When players come within 50 metres of a prize icon, they can tap to claim it, but it can then be stolen by other players located within 100 metres.
The 'Game of Phones' app is part of Virgin Mobile's new brand direction, revealed in August. The strategy focuses on retention, with the company seeking to engage its customers in a fresh way.
"Games are now the second most-used application on smartphones, just after Facebook and we are genuinely excited to be able to engage the public in our brand in a truly innovative, unique, fun and inherently 'Virgin' initiative that is mobile first," says Virgin Mobile's director of brand and communications, Nicole Bardsley.
http://youtu.be/f5bGRQyeEgw