$3M backing for Shoes of Prey mainstream push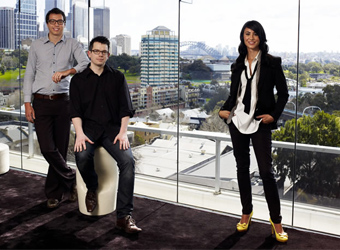 Australian start-up Shoes of Prey plans to use $3 million in funding secured from heavyweight backers to invest in a major marketing push and take the design-your-own-shoe brand mainstream.
Based in Sydney, the three-year-old online retailer received large financial backing from US venture capitalist Bill Tai, Silicon Valley blogger/investor Michael Arrington's CrunchFund and Mike Cannon-Brookes, co-founder of the Australian-based global enterprise software Atlassian, according to a report in the Sydney Morning Herald.
Co-founder and CMO of the multiple-retail-award winning company, Jodie Fox, told Marketing the funding would go to expanding their marketing team and experimenting with new innovations.
"One of the things we're most excited about with the funding is trying out some of the things we've been wanting to experiment with from a marketing perspective," Fox said.
"We plan to keep working on initiatives to innovate on social shopping functionalities that have yet to launch on our site, and expand our product offering." Predominantly a pure-play online retailer, barring a few dalliances with pop-up stores and markets, the brand also plans to "blur the lines between online and offline retailing" and experiment with 'storytailing', Fox revealed.
Shoes of Prey's other co-founders, ex-Google employees Michael Fox and Mike Knapp, discuss the blurring of retail and media being used by retailers to create stories around their products, known as storytailing, on their blog — 22michaels. The trend could have serious implications for fashion media, with retailers such as Mr Porter dabbling in high-quality, magazine-style publications that use product ranges to create fashion content.
Jodie Fox's marketing responsibilities are to be split into five as the start-up takes on roles traditionally the domain of media companies, such as copywriter, web graphic designer and videographer. Other hires are also being made to take the size of the team from 14 to 24.
Fox, who was named Telstra's Business Woman of the Year 2011, told the Herald the deal was proof that Sydney had the ideas, talent and execution to hold onto bright young entrepreneurs who've been increasingly leaving the country for the fertile start-up grounds of Silicon Valley.
"In light of the calls from [Sydney Lord Mayor] Clover Moore and [Google Australia managing director] Nick Leeder just last week to turn Sydney into Silicon Beach, we've got the proof that we have the talent and the Silicon Valley buy in to make it happen," she said.
The company recently launched another niche online shopping site called Sneaking Duck, which aims to turn prescription glasses into a fashion item that wearers own multiple versions of.