New 'free, hopeful' Twitter logo takes flight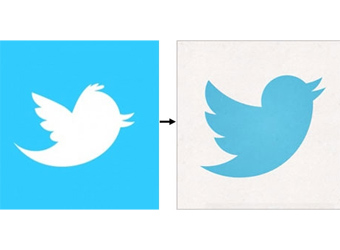 After six years the old bird has been given the sack and a new bird is set to take flight, from today. Twitter has announced a redesigned logo, introducing a new, more dynamic depiction of its famous bird logo, designed to be the embodiment of "freedom, hope and limitless possibility".
Announcing the new logo on its blog, Twitter writes that the bird was chosen not just because it makes a tweeting sound, "Whether soaring high above the earth to take in a broad view, or flocking with other birds to achieve a common purpose, a bird in flight is the ultimate representation of freedom, hope and limitless possibility."
The Twitter logo has become so universally associated with the social network that the need for text, bubbled typefaces, or a lowercase "t" to represent the brand is no longer required, Twitter says.
Elaborating on the design, the blog post adds, "Our new bird grows out of love for ornithology, design within creative constraints and simple geometry. This bird is crafted purely from three sets of overlapping circles — similar to how your networks, interests and ideas connect and intersect with peers and friends."
Twitter has a brand resource page where users can find out more about the new trademark, guidelines and new image downloads.