Ad Trading Summit Sydney: ninemsn calls on big Aussie publishers to ally against Google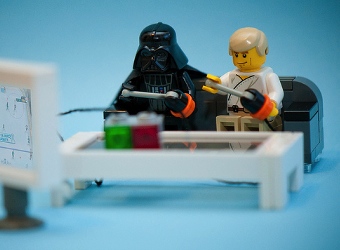 Deep within the Death Star itself, Mi9 CEO Mark Britt called on Australian publishers to join the Rebel Alliance against the Empire.
We were seated in Doltone House, Darling Island Wharf, which happens to be home to Google's offices, and Google is the aforementioned Empire. We were there to learn, at an event organised by ExchangeWire, about automated trading in advertising and how it's going to change the world of online advertising in this country, as it has done in the US and UK.
Britt used the analogy while announcing (or re-announcing) ninemsn's advertising exchange under the mi9 trade umbrella brand. But this time the announcement included details of an interesting feature: ninemsn's ad exchange will be open to all the nation's premium publishers. Subtly visible on the slide projected at that moment were logos of Fairfax and news.com.au.
The positioning of Google on the dark side is due to the fact, according to Britt, the big G is "commoditising context" and doesn't "believe in the value of brands."
"Google will do very well at mopping up grandma's knitting needles and fly fishing sites, but that's not our vision," he says, referring to the types of inventory available through Google's DoubleClick ad exchange.
Mi9's vision is to present to advertisers the value of premium content that Australia's large publishers produce, and the accompanying premium ad space, by launching its private ad exchange, where not just anyone can sell inventory.
Further to that, ninemsn will be making every last pixel of its premium inventory available through the exchange. So far in Australia, publishers that have dabbled in automated trading (aka programmatic buying) of their online ad space have done so with 'remnant' inventory: leftover ad space their human salesforce hasn't already sold.
Watch this space.
Beginning March, Marketing magazine is featuring a series of articles examining the implications of automated trading for Australian marketers, media agencies, and publishers. The March issue is on sale now and features an introduction to and demystification of this new world of data-driven, targetable advertising. Acronyms you will learn: RTB, DSP, SSP… and more!