Ikea bus-shelter activations help commuters feel at home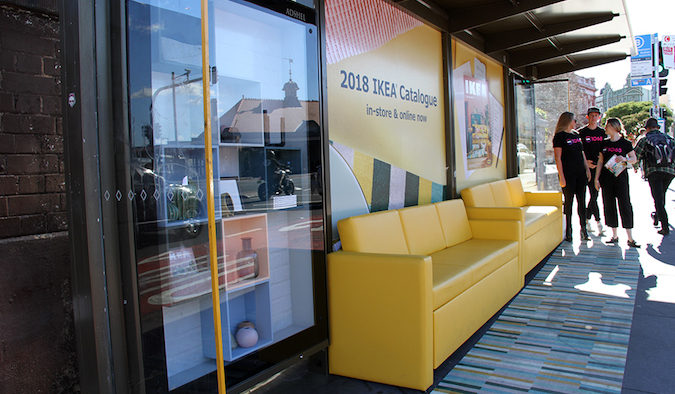 Ikea is turning bus shelters in Sydney and Perth into living room displays to promote the release of the brand's 2018 catalogue.
Starting this morning, on-site activations by Adshel and Australian Radio Network (ARN) in Sydney and Perth will see full Ikea living rooms set up at Newtown's Enmore Rd and Perth's St George's Terrace.
The out-of-home (OOH) and radio campaign aims to provide Ikea access to prime commuter locations while engaging consumers with its immersive execution.
From this morning, Ikea representatives and Kiis radio network street teams will take to the streets onsite, handing out copies of the new catalogue, and giving away Opal and Smart Rider public transport cards.
The execution is part of a nationwide campaign supported by online TV, online video and radio.
"The cross-platform use of two HT&E companies builds an exceptionally strong campaign, giving scale to the Ikea message" says Adshel's sales and marketing director David Roddick, "this campaign truly demonstrates the flexibility and impact Adshel Immerse offers advertisers."
"As an emphasis of this year's catalogue related to life in and around the living room, working with Adshel on these special-build activations allowed us to convey this theme in an engaging and fun way, while providing commuters with a comfortable and functional space," says Peter Moore, external communications and media manager, Ikea.
The Ikea and Kiis Network street teams can be found at Enmore Road in Newtown and St Georges Terrace in Perth, today between 7.30am and 8.30am.
The campaign runs until 17 September across Adshel Immerse and until 15 October nationally across Adshel street furniture. The campaign is running until 10 October on ARN's Kiis and Pure Gold radio networks.