Advertisers complain of lack of transparency around retargeting
Despite the effectiveness of retargeting, advertisers are concerned with a lack of transparency in the medium.
One in four advertisers are concerned with a lack of transparency of retargeting, a survey of digital marketers has found, with 43% nominating the attribution of performance of retargeting ads as a major challenge.
Cross-channel performance advertising platform Marin Software conducted the survey of enterprise digital marketers on retargeting trends. Of the 233 respondents, more than one-third are unsure if ads are viewed, are wary of click fraud, and are concerned with 'black box' campaign optimisation.
Key findings of the survey:
88% of surveyed marketers use retargeting – display (81%), search (77%) and social (48%) are the top channels used by marketers in retargeting,
more than half say they will be increasing their budgets across search, social and display in 2015,
51% of respondents indicated retargeting makes up less than 10% of their monthly marketing budget.
the main challenges marketers have with retargeting are the inability to attribute the performance of retargeting ads, getting sufficient list volume to be effective, and a lack of transparency into costs and placement,
concerns with transparency include viewability (38%), click fraud (37%), and 'black box' campaign optimization (34%),
Google ranks as the most common retargeting channel with 89% of respondents leveraging either the Google Display Network (GDN), Google remarketing lists for search ads (RLSA), or a combination of the two,
the click-through rate (CTR) of RLSAs to be 234% higher than non-RLSA ads (second quarter 2014), and
the cost-per-click (CPC) of RLSAs was 24% cheaper than non-RLSAs. Marin attributes the high CTR to better ad relevancy and the low CPC to more targeted ads.
Jay Revels, managing director of Marin Software APAC, says retargeting is emerging as a central part in the marketing mix: "Advertisers are hungry for the same type of control over the channel that they are used to with search and social marketing," he says.
Here's an infographic. Click for a larger version: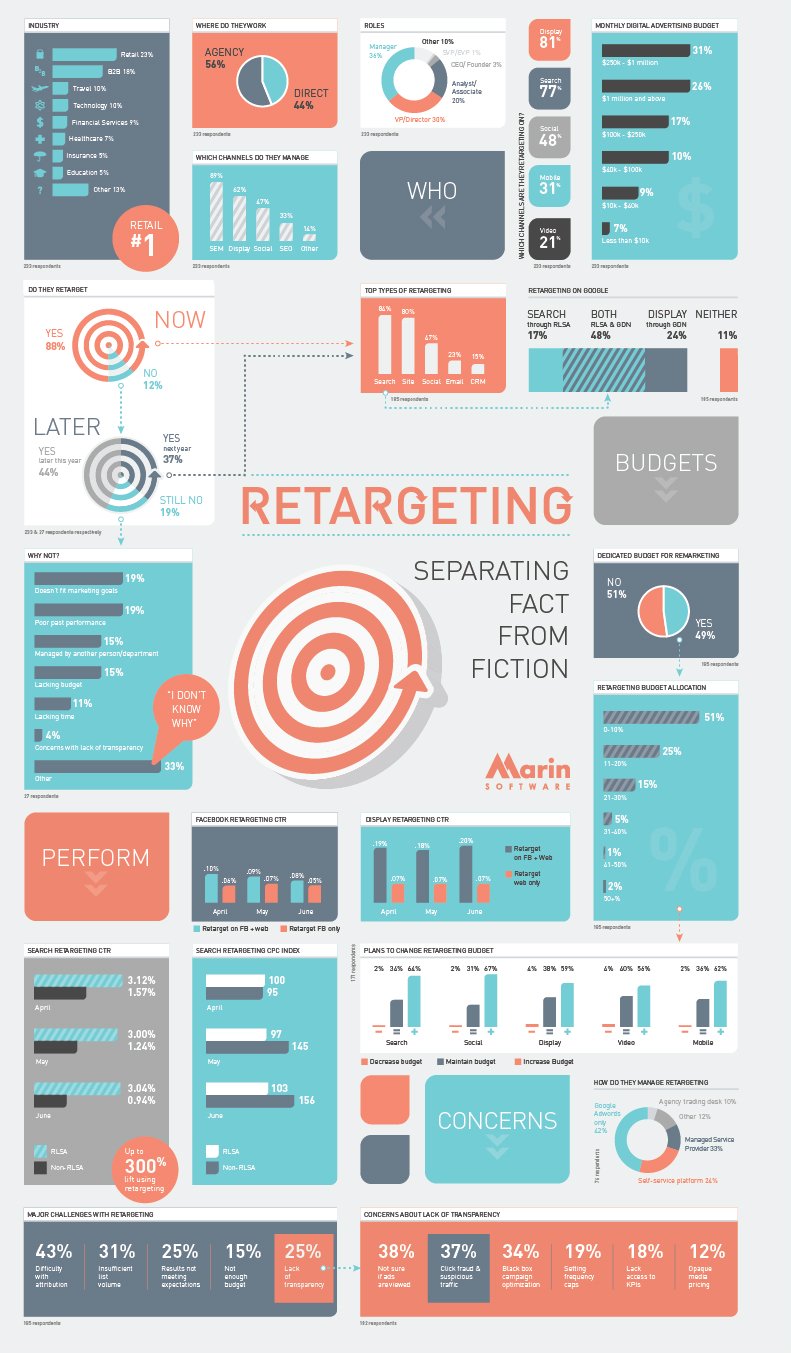 About the survey: For the 'Performance Marketer's Retargeting Guide', Marin Software surveyed digital marketers of leading brands and agencies. More than 50% of respondents maintain advertising budgets of more than $250,000 per month. The survey did not include customers of Perfect Audience, a retargeting platform recently acquired by Marin.