AFL taps online fan community for customer insights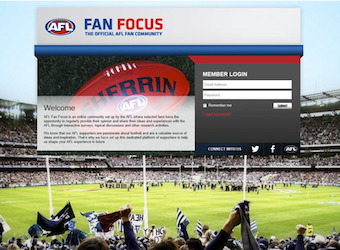 The Australian Football League (AFL) has launched the first online insights community for a major football code as it seeks to bring regular customer research into its game plan.
The fan community, known as AFL Fan Focus, was developed in partnership with insight community technologies firm Vision Critical. The digital platform will allow the AFL to hear from its fans regularly, in an online community, with the sharing of ideas and experiences through interactive surveys and topical discussions enabling the AFL to understand the issues facing its audience.
Selected fans, currently numbering 1000, have the opportunity to regularly provide their opinion and the AFL will respond to the thoughts, discussing match day experience, ticketing, what it means to be a member and the advertising of the brand.
"AFL Fan Focus will provide the AFL with the opportunity to engage fans in meaningful conversations and thereby help it to make the right decisions about what fans really want from the AFL experience," says Vision Critical managing director Australia and New Zealand, Peter Harris.
The AFL will pioneer the trend in 2013 with Shaun Welch, AFL consumer strategy manager, explaining that the future of the AFL is in the hands of its core supporters, not just the AFL administration. "We know that our AFL fans are passionate about football and are a valuable source of ideas and inspiration. That's why we have set up this dedicated platform of supporters to help us shape the AFL experience in future," he says.