AMI: Senior marketers upbeat despite modest budget expectations
Marketing budgets are expected to increase by an average of 3.5% next year, with budgets in smaller organisations, retailing, not for profit and professional services sectors expected to grow the most.
The findings, from the Australian Marketing Institute and Colmar Brunton's Annual Senior Marketers Monitor, paint a picture of upbeat marketers in Australia, with four in five senior marketers feeling 'positive' about their profession despite only two in five expecting a budget increase.
Marketers the least optimistic about next year's budget work in the financial services and manufacturing industries, with these sectors expecting 0.2% and 0.5% declines in their marketing budgets, respectively.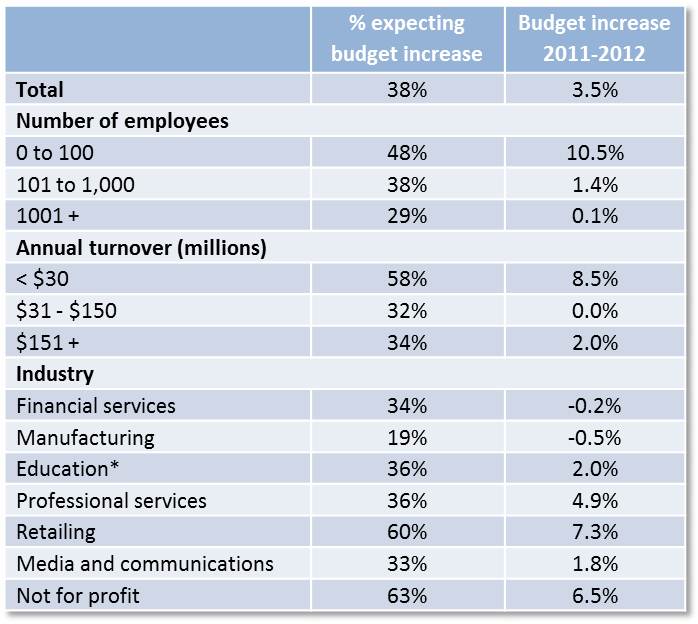 Mark Crowe, CEO of the Australian Marketing Institute, says that while there were large budget variances across all sectors, the increases expected represent a consolidation of the growth experienced last year.
"Despite the variations in budgets forecast for 2012 there is a continuing level of confidence in marketing's role and influence in Australian business. Importantly, it demonstrates that marketers outlook is not necessarily contingent upon budget levels," Crowe says.
Marketing priorities
In terms of marketing priorities, there was little variation from 2011. The report found a continued focus on priorities that deliver short term results.
Challenges faced by marketers
Acquiring new customers has seen the largest increased in importance out of the key challenges faced by marketers over the past year.

Changes in media expenditure
Mobile marketing made it into the top five channels of media expenditure for the first time, with a 9% increase in budget expectations between 2010 and 2011.
"Online and new media not surprisingly continue to enjoy high levels of increased usage," Crowe says. "However, traditional media can also look forward to increased usage, albeit not at the same level."
The Senior Marketers Monitor was conducted in November 2011 with a sample of 365 marketers from a variety of industries and organisation sizes.