Arnott's gets a new look for its 150th birthday
Celebrating 150 years in 2015, Arnott's has a new visual identity set to revitalise and re-awaken one of Australia most iconic brands.
The new packaging now features the iconic parrot more prominently as well as incorporating the colour red back into the packaging.
Branding consultancy Landor was tasked with refreshing the brand to appeal to a new generation of consumers, as well as remaining relevant to long-time loyalists. The agency says that combating confusing segmentation was a key focus to build a defence against competitor brands and integral to the success of the rebrand.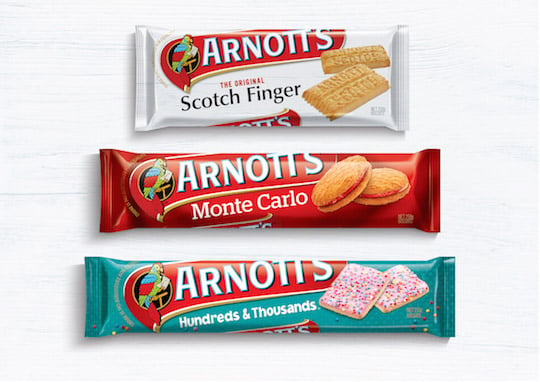 The Arnott's parrot now features more prominently on the new packaging and master brand applications.
The colour red was also emphasised in the new packaging.
Nik Scotcher, marketing director treating, says enhancing the visual identity of a treasured Australian icon was a rare opportunity and privilege. "It was important to us that the new visual identity would not only attract new generations of Australians to the Arnott's brand but also celebrate all things our existing consumers love about the brand.
"The visual identity that Landor has created is distinctive and recognisable, with such a strong and proud display of identity the Arnott's brand is reasserting its iconic status in biscuit supermarket aisles everywhere," Scotcher says.
"Arnott's is an Australian icon," says Dominic Walsh, managing director at Landor. "I grew up with Scotch Fingers and Monte Carlos with a cup of tea, and these are the same biscuits my kids enjoy. We wanted to reflect that history and pride all Aussies feel for Arnott's in the rebrand, but we also had to make sure it was relevant for the next 150 years," says Walsh.
A previous version of the packaging for Monte Carlo, as well as the wider range, looked like this: