B2B Big Plays: Airbus, B2B Marketing Awards shortlist and events that suck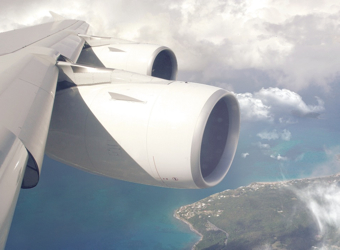 B2B Big Plays is proudly delivered twice a month by B2B Marketer, Australia's largest B2B marketing group.
Airbus wants to own the sky – or is it love?
Global – In a first for the Financial Times, a cover wrap has been created to show-off the
Airbus A380, with British Airways coming along for the ride.
As part of a global branding campaign, the 'Own the Sky' campaign is designed to communicate the strong business potential of the aircraft.
In a blatant plug for print advertising [I'll allow it – Ed.], Ben Hughes from FT says, "This is a great example of a campaign that is highly targeted to the FT's global audience, and is testament to the continued value of print advertising. It stresses the importance of cultivating close relationships with leading businesses like Airbus to ensure a bespoke and value added approach to each campaign."
The advertising is complimented with a 'heavy on the digital sauce' website.
So now I'm confused: is it 'Own the Sky' or 'A380 Love'… or am I an idiot? Vote please! I need to know.
ExactTarget gets snapped up for $2.5 billion
US – SalesForce has acquired ExactTarget, and the market is not sure why. Forrester analysts Rob Brosnan and Shar VanBoskirk said in a blog post: "Salesforce's sales and service products do not extend ET's core offering. Indeed, the acquisition likely will slow down the already much-needed unification of the disparate technologies and data structures underlying ET's email, Audience Builder, Automation Studio, Social Engage, and mobile products. Integration with Salesforce is likely to take precedence over unification in the near term."
It's an exciting race to build the ultimate machine. Where will it end?
The B2B awards shortlist is revealed
UK – The B2B Marketing Awards shortlist has been announced.
Entrants to the B2B Marketing Awards gathered at the IBM Forum London to hear who had made it onto the coveted shortlist.
Particularly successful campaigns included Gyro's 'You're on' for John Deere. It was shortlisted four times in best integrated, PR, creative and product launch campaign. Earnest's campaign for St John Ambulance also made it onto the shortlist four times.
This year saw entries increase by almost 20%, meaning the competition for a place on the shortlist was high.
Sadly, no Aussies.
Why events can really suck
Global – 90% of marketers admit they are not maximising audience insight at events but they believe technology will help them change this.
In a survey conducted by interactive technology and audience insight specialists, IML Worldwide, many marketers admit to not capitalising on intellectual capital despite 60% regarding audience insight as vitally or very important. While 80% of respondents agreed that post event feedback is becoming more important, a similar number, 79%, felt that this insight is lost without the use of interactive technology.
Guys, how hard is it, really? Make sure you have something brilliant to show or say. Create a hit list of who you must meet, and get 'em to the stand. Then let the sales guys go nuts afterwards.
US financial services ups the digital spend
New York – Advertising spending by US financial services companies will reach $5.2 billion this year, an increase of 13% over 2012, according to a report by eMarketer.
The report, titled, 'The U.S. Financial Services Industry 2013: Digital Ad Spending Forecast and Key Trends,' says 62% of this digital ad spending among banks, insurers, credit-card issuers and investment firms will be for direct-response campaigns. The balance will focus on branding programs.
B2B Big Plays is proudly delivered twice a month by B2B Marketer, Australia's largest B2B marketing group.