Ban all advertising: do these two (fake) TV ads convince you?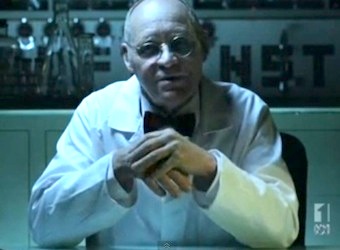 Over the last few years the world of advertising has been exposed for all to peek at by the ABC's marketing series The Gruen Transfer/Nation/Planet/Sweat. The show, where a panel of industry veterans discuss all things communications, last night asked two advertising companies to pitch an ad convincing viewers that advertising should be banned.
Despite the unusual (and ironic) brief, the two appointed agencies, Gravia Media and Sense, reinforced that advertising may just be able to sell anything. Both advertisements were convincing, despite the fact that they mocked their creators' own craft.
Gravia Media's marketing manager Vivienne Ryan said Gravia went with the argument that advertising is an intruder on our daily lives.
The satirical advertisement showed people doing everyday activities such as sleeping, only to be bombarded by brands, slogans and logos. The strapline is 'Advertising: it ruins what you already have'.
Sense agency creative director Guilaume Roux took a slightly different approach, saying: "We asked the public to really question the ethics of advertising and we couldn't resist something slightly Orwellian."
In the spot a scientist in a clinical looking room tells the viewer they are under experiment. "You will assimilate certain messages. These will alter your perceptions of the world."
A slightly horrifying twist makes the ad hit home.
The panel unanimously declared Sense's ad to be the winner. Panelist Dee Madigan said she was sure the first would be the winner, until she saw the second pitch.
The pitches proved to be popular, with over one million people tuning into the final Gruen Planet episode of the season.
View the pitches below (the rest of the episode is well worth the time, too).
http://youtu.be/wsRk99L_6pQ?t=21m19s