The bar on the edge: BrewDog to open a bar straddling US-Mexico border in defiance of Trump's wall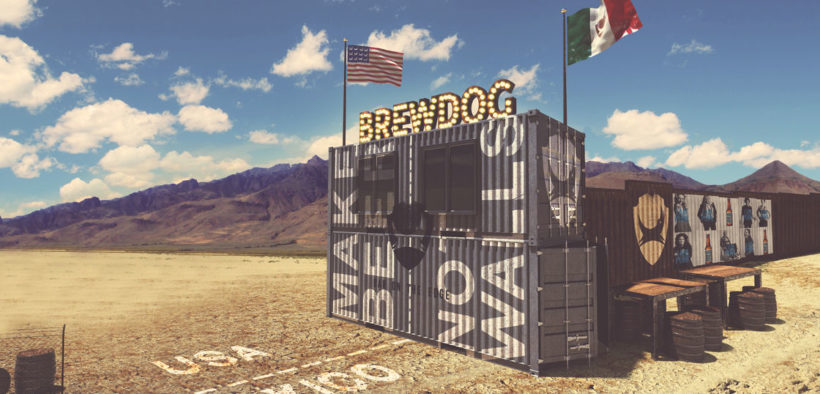 BrewDog has announced plans to open a craft beer bar on the border between USA and Mexico.
As part of its USA expansion, Scottish microbrewery BrewDog has announced plans to open 'The Bar on the Edge', a brewpub straddling the US and Mexican border.
It's unclear whether the bar will actually open or the announcement of the intention is just a publicity stunt, but BrewDog co-founder James Watt claims the brewer will "request official permission to the local authorities to put it there and adhere to any red tape stuff."
"I guess it would make it more difficult to build a wall if there's a BrewDog bar in the way," he continues.
Specific location is still top secret, with the brand only offering Texas and Chihuahua as the most detailed geographic hint. The geographic border will be represented by a dotted line across the centre of the bar and along the venue's outdoor seating area.
Other revelations about the bar made at the announcement were that it shall be built from shipping containers, officially defined as a temporary mobile building, and it will serve American beers on the Mexican side, Mexican beers on the US side, and BrewDog beers on both sides.
It will not be situated near regular footfall, but the founders hope it will become a "magnetic pole" for craft beer fans on both sides of the border.
"'The Bar on the Edge' will be set up on the furthest outskirts of the US, reflecting our ambition to reach every corner of the country as we begin to brew our beers on US soil," says Watt.
"Beer has always been a unifying factor between cultures – and our business was born from collaboration and an inclusive approach – so we thought it would be fun to place the bar a few feet further to actually cross the US-Mexico border too," he says.
Image source BrewDog website