Benevolent Society's interactive tunnel at Vivid Sydney
Campaign: Hundreds and Thousands installation at Vivid Sydney
Client: Benevolent Society
Agency: Designworks
Background
Benevolent Society is Australia's oldest charity and was approaching its 200-year anniversary – a formidable milestone. However, Benevolent was heading towards this anniversary without a clear purpose and role. It had long been known for one of its former functions, managing Sydney's Royal Hospital for Women. As a result, for a long time Benevolent had a very obvious, physical manifestation of its purpose. But when the hospital was absorbed back into the public sector, Benevolent Society's centre of gravity went along with it.
The task of Designworks was to give Benevolent a new centre by transforming the organisation and redefining its purpose. Following a successful brand launch, and as part of an initial brand awareness campaign, Benevolent Society prepared a calendar of activations. Vivid Sydney – the annual festival of light, music and ideas – was presented as an opportunity to further showcase Benevolent Society's new purpose.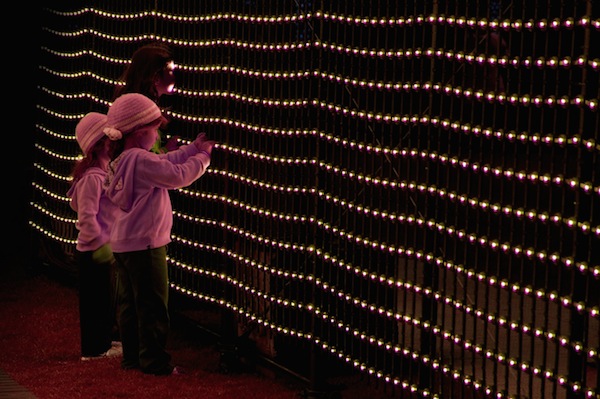 Objectives
The client brief for its representation at Vivid Sydney was deliberately loose – 'something that encapsulated child- like wonder, colour and community, something that everyone could enjoy collectively' – to enable Designworks to think big with its creative approach. An installation called Hundreds and Thousands was the result.
As a working group, Designworks faced challenges around production timelines and budget constraints, as well as the build and implementation of software that would enable the delivery of the intended interaction to event-goers. Through additional support from Destination NSW awarding the installation a $10,000 grant, and the provision of prime real estate opportunities for its location, Designworks delivered above all expectations.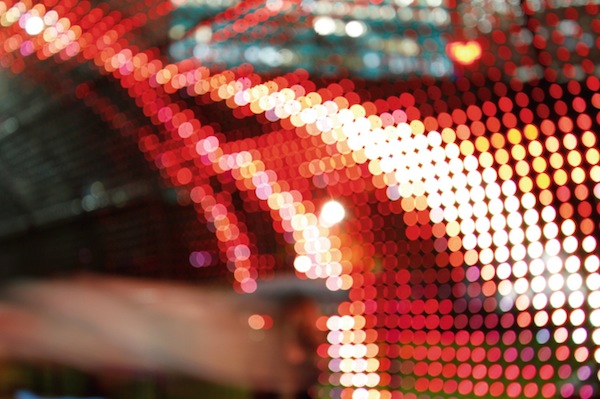 Strategy
Hundreds and Thousands was an interactive six-metre-long tunnel with lights responding in unique, ever-changing patterns, ensuring the sculpture was never static and providing a different experience for visitors attending more than once. The sculpture symbolised that we are all connected through our hopes for the future. The tunnel was supported by an online platform – hopesforchange.org.au – where people from across the community were able to log on, share and become part of the Benevolent Society's Hundreds and Thousands community. The design was based on several factors: audience interaction, strength in numbers and engagement on a mass level.
Audience interaction
Historically, Vivid sculptures have been something that people can look at or interact with, but not be a part of. The creation of a larger-than-life tunnel ensured many patrons could experience the installation at any one time by standing within it, viewing it from afar or walking through it.
Strength in numbers
Why not create something that is better when shared? Sure, it's nice looking at others interacting with a sculpture, but knowing that the more people that interact with it, the more it changes makes it all a little more magical. A creative interpretation of Benevolent Society's brand strategy and positioning reinforced the brand to people experiencing it for the first time – even if they weren't directly aware of it.
Engagement on a mass level 
Creating a sculpture that was social media worthy (albeit strange) was something that Designworks kept coming back to in the design development phase. As Vivid is a Sydney-based event, but Benevolent Society's reach is much wider, it was important to ensure that measures were in place to create something that could be appreciated across the nation, not just one city. Does the sculpture photograph well? Does the sculpture grab attention and attract footfall?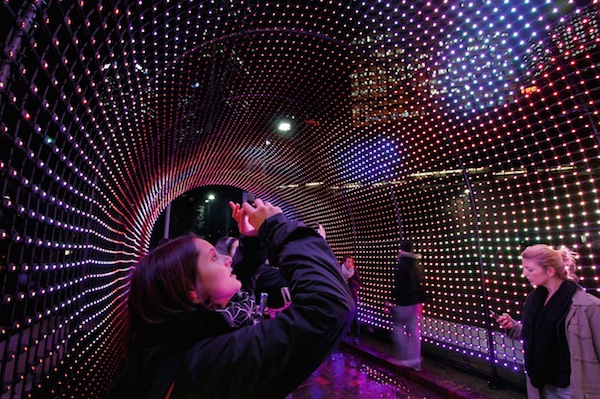 Execution
Vivid Sydney was live for 18 consecutive days over May and June 2013. With a core working team made up of staff from both the Benevolent Society and Designworks, a project build and activation plan was created that included a teaser online campaign on both the Designworks and Benevolent Society websites.
Leading up to the Vivid launch, the Benevolent Society ran a Hopes for Change online campaign, encouraging the community to log on and submit their hopes for the future. Hopes for Change gathered information for the Benevolent Society to use as activation while also helping the organisation assimilate the hopes for the future of its target audiences. The online engagement campaign gathered hundreds of hopes that were then filtered through the Hundreds and Thousands tunnel to ensure the dynamic light patterns had more than enough hopes to feed off. The online portal remains active today at hopesforchange.org.au.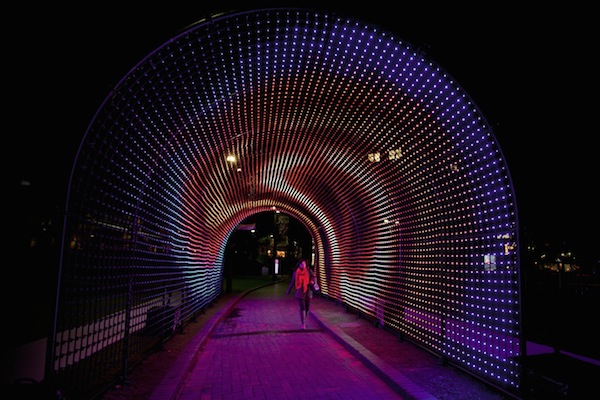 Results
The impact of the Hundreds and Thousands sculpture at Vivid Sydney was tremendous, achieving greater cut-through and communication to an audience Benevolent Society and Designworks would never have been able to reach individually.
Key results were:
footfall at Vivid Sydney 2013 was 800,000,
a dedicated Facebook campaign delivered a reach of 2.8 million,
its Facebook community increased from 770 to 5500, a 700%,
increase, during the month of May, Benevolent's birthday month (of which Vivid was the centrepiece activity),
its website had a 70% increase in unique visitors, with a reach of over 19,700, during the month of May, Benevolent's birthday month, and
media generated from Vivid reached an audience of over two million, including the Vivid Sydney guide delivered to 1.2 million homes, an interview with Anne Hollonds, the CEO of Benevolent Society, on ABC News 24 (audience 75,000), and stories about the installation ran online at Marketing, Campaign Brief, B&T and Mumbrella (combined visits of more than 400,000 per month).