Bing launches first Aus marketing campaign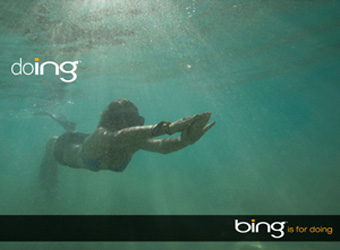 Earlier in the week, Bing launched its first Australian marketing campaign 'Bing is for doing'. Building on the proposition of being a 'decision engine', the campaign positions Bing as a tool that consumers can use to make decisions the topics they're searching about.
The centrepiece of the campaign, created by BMF Sydney, is a series of mini documentaries and TVCs which tell stories of inspirational young Australians who get things done. Four TVCs will air nationally on Sunday night on Channel 9, Go! and Gem, kicking off a ten week multi-channel media plan including online executions with all major digital publishers, print advertorials in ACP titles, a branded destination experience for Xbox and a dedicated YouTube channel.
Bing removed its beta tags in November last year, after an extensive two year period of testing, product feature rollouts, investment and partnership integrations. The search engine also looks set to incorporate social into search results in the near future, with announcement of social features rolled out in America last week.
The campaign targets Gen Y, which it has renamed to 'Gen do', with young role models, such as shark documentary filmmaker Madison Stewart.
If you can't see the video below, please refresh this page.