Branding Australian cricket's subversive little brother
Project: Twenty20 Big Bash League
Client: Cricket Australia
Agency: FutureBrand
Background
Australian cricket was facing a huge and quite unique challenge in a sports context, due to it having three related but increasingly distinct formats: test, one-day and Twenty20.
Careful portfolio analysis revealed both the potential 'fit' between the Twenty20 short-form format and younger audiences but also highlighted the dangers of one format potentially cannibalising or diluting the audience for another format.
Part of the problem was cricket being perceived as a comparatively boring and traditional game, at odds with the intensity and immediacy sought by a younger generation of fans. Structural issues were exacerbated by poor performances at test level, traditionally the barometer for Australia's popular attitude to cricket, and by other off-field controversy.
The new portfolio strategy was centered around the reinvention of the state-based T20 format to specifically target a younger audience through the introduction of new league, with new teams and new players, all expressed through an unexpected raw, urban attitude – by any estimation a big shift for a sport steeped in tradition and perceived to be on the wane.
Objectives
Australian cricket needed to reengage a potentially lost generation of younger cricket fans as both game attendances and TV audiences were stagnant or in decline.
Increasing competition from other sporting codes displaying a much more 'in touch' attitude to overall youth style and channels (as opposed to simple 'sport' style) were seriously threatening cricket's position as 'Australia's favourite sport'.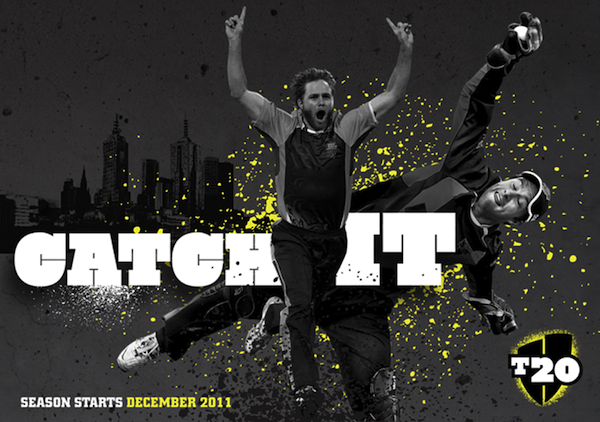 Strategy
Inventing a league and tournament with no history, using teams with no grass-roots whilst simultaneously distancing the T20 product from the one-day format without alienating 'mums and dads' seemed an almost impossible task (on paper at least).
What we did have going for us was a product that perfectly suited the adrenaline/drama junkie desires of Australian youth yet was still underdeveloped and poorly packaged. We also had a new league format that would address the 'so what?' criticisms of previous Big Bash seasons in that it would culminate in a genuine finals series.
One other asset to activate was in the latent strength of local (as opposed to state vs. state) rivalries that generate so much passion in the NRL and AFL. In using much more tangible city profiles we would be able to quickly attach some genuine identity to these new teams.
To increase the distinction from the past each team would select a non-traditional team colour and a name that would not evoke a local animal or historic aspect.  So no 'Redbacks', 'Bushrangers' or 'Blues'. Again, this was a big cultural and brand departure.
Lastly was how the teams would be constituted. There would be the excitement of the initial rostering process where unlike the 'all star' approach of the Indian IPL, the Big Bash League would combine young local talent, experienced test stars and some cosmopolitan glamour via two overseas stars per team – be they from Delhi, Auckland, Islamabad or Somerset.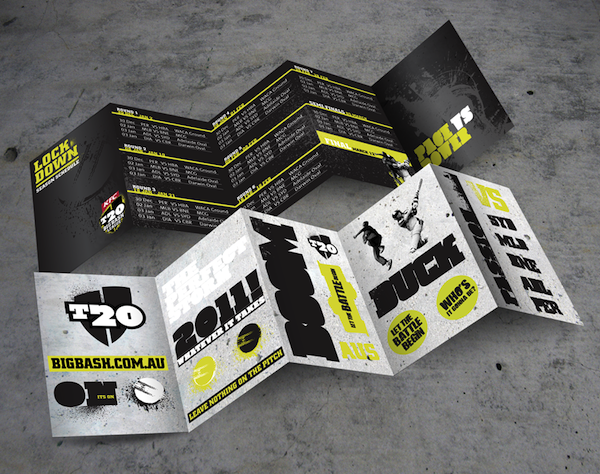 Execution
There was an opportunity to challenge the visual paradigm cricket and express what 'anti-cricket' or 'cricket's subversive little brother' could look like. The heightened dynamism, intensity and immediacy designed to provoke renewed interest from a younger generation of fans.
From the split shield symbol to the gritty concrete textures, every aspect of our creative approach was designed to convey anti-establishment and a 'counter cricket culture' that would deliberately polarise audiences – even at the expense of the alienating older traditionalists.
The desired outcomes included projected increases in broadcast reach, game attendance and commercial revenue with a significant contribution from the targeted younger generation of fans and their families.
The new identity and design informed a huge array of social media and advertising applications that collectively challenged preconceptions of cricket, built strong anticipation and awareness of the new league, and ultimately provoked passionate debate about the new teams and players.
Results
The results from the first season show a dramatic increase in both broadcast reach (80% increase compared to previous season) and game attendance (58% above KPI with 49% attending a T20 game for the first time) predominantly from the targeted younger audience.
The media value of the T20 Big Bash has increased significantly (730% compared to the previous season).
Over 30% of kids interested in cricket now describe themselves as fanatical about the T20 format compared to the previous season.
Mike McKenna of Cricket Australia says that the target of attracting 16,000 fans per match was exceeded: "We certainly beat that: we're at nearly 18,000."
"The TV ratings have really surprised us and delighted us. We were expecting somewhere in the region of 165,000 – and we are well ahead of that in the region of 280,000 per match so we're very pleased with those KPIs."