Broadcast TV viewing up slightly year on year, multi-screening now the norm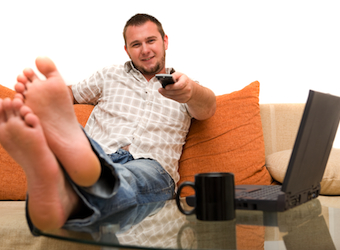 The average Australian watched 93 hours and 16 minutes of broadcast television in the first quarter of 2014, a slight year-on-year increase, while the majority of viewers now engage in multi-screen behaviour.
Australians are increasingly using laptops, tablets and mobile phones to complement rather than substitute traditional television, according to the 'Q1 2014 Australian Multi-Screen Report' by OzTAM, Regional TAM and Nielsen, released today.
In the first quarter of 2014 people watched an average of 93 hours and 16 minutes of broadcast television each month on their in-home TVs, up 37 minutes on the same quarter a year earlier, a 0.66% increase.
Age groups watching more broadcast TV year-on-year include under-12s (up three and a half minutes), 18 to 24s (up 44 minutes), 35 to 49s (up nearly an hour) and over-65s (up 11 minutes).
About 92% of all TV viewing was live-to-air and 8% was playback (viewing of pre-recorded content within seven days of original broadcast). On average, Australians spent 27 minutes more each month watching playback than in Q1 last year.
Australians spent nearly eight hours a month watching online video via PC or laptop, and over-16s spent nearly two hours watching online video on smartphones and on tablets.
Multitasking continues to be common while watching TV, with 67% of online Australians simultaneously using another device at least once a month.
Over-16s who multitask while watching TV most often use laptops, followed by desktop computers, smartphones and then tablets – this is relative to household ownership rates of these technologies.
Teenagers and 25-to-34-year olds are the age groups most likely to multitask.
Over-65s are the heaviest TV viewers (watching for more than 150 hours a month) but they are the age group least likely to multitask (48% claim to ever do so, compared with 74% for all over-16s).
But in Q1 2014, over-65s increased their playback viewing more than any other age group (up almost two hours a month on last year to almost 10 hours).
16 to 17 year olds are the heaviest viewers of video via mobile phones, at nearly nine minutes a month.
Although 18 to 24 year olds spend the most time watching video when TV and other connected devices are combined, they are the lightest TV viewers. However, this age group spent 44 minutes more per month watching TV in Q1 2014 than they did a year earlier.
Under-13s spend two thirds of their screen time watching TV and are the age group most likely to use their televisions for other activities such as gaming.