Coca-Cola enters the water enhancer market with Powerade Sports Drops and Pump Drops
Coca-Cola South Pacific has launched two new water enhancer brands, Powerade Sports Drops and Pump Drops – concentrated flavours designed to add to water.
The launch comes just over a year after Coca-Cola competitor Schweppes launched a markedly similar strategy when it tested two separate water enhancer brands, LQD+ and Cottee's cordial sub-brand Squirt, in the market.
Coca-Cola South Pacific hydration marketing manager Tracey Evans hopes both products can have similar success to liquid concentrate water enhancers in the US, which boosted the flavoured water segment 15%.
"The launch of our new Drops further extends our commitment to present more choice when it comes to the beverages we offer, providing more innovative options to meet the consumer demand of our respective target audiences," Evans says.
The products are now available in Coles supermarkets and Caltex service stations. All other major grocery, petrol and convenience outlets across the country will sell them from next year.
Powerade Sports Drops
Available in Powerade's top-selling flavours, Mountain Blast and Berry Ice, Powerade Sports Drops are designed for "active males across a broad age range".
They are designed to provide 'on the go hydration' with the addition of electrolytes lost through sweat.
As well as leveraging off the existing Powerade brand, the company will promote the new product with "striking" point-of-sale merchandising.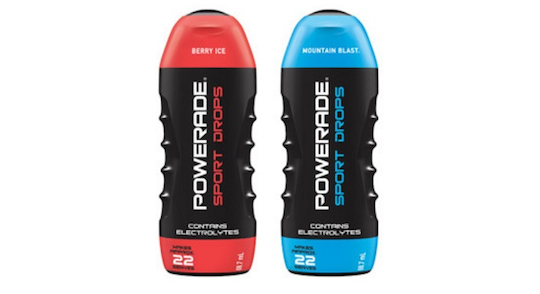 Pump Drops
Pump Drops is riding on its claim as "the first water enhancer to launch in Australia under an existing water brand", since all the others have been extensions of cordial or sports drink brands or entirely new brands.
Health-conscious 18-34-year-old variety seekers are the target market of this product. The sugar free range is available in Strawberry Kiwi, Mixed Berry and Pineapple Coconut.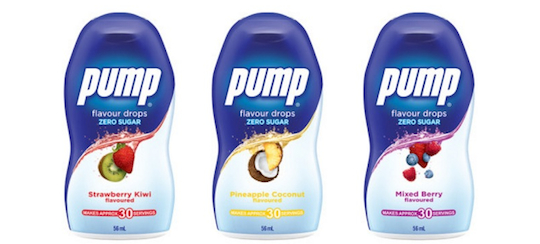 RELATED: Schweppes is testing the water enhancer category with two distinct brands »
RELATED: Insights on innovation with Schweppes' Ellie Vince »