Coles banned from advertising 'fresh' bread after ACCC claims of false advertising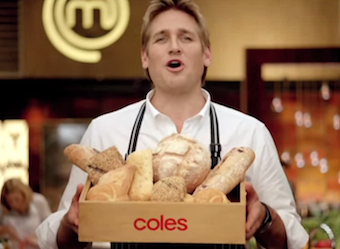 False advertising by Coles claiming its bread products were 'freshly baked in-store' and 'baked today, sold today' has led to a three-year ban by the Federal Court on making such claims.
The Federal Court is yet to decide on a financial penalty, which could be up to $3 million.
The advertising ban follows a finding in June that the supermarket chain breached Australian consumer law with "false, misleading and deceptive" claims.
The ACCC announced in June that Coles' 'Cuisine Royale' and 'Coles Bakery' branded bread were actually partially baked and frozen off-site by local and even overseas suppliers.
Finishing the baking process at Coles stores was not enough to constitute the companies' 'freshly baked' claims as true.
"The Court found that the 'Baked Today, Sold Today', 'Freshly Baked' and 'Baked Fresh' claims made by Coles amounted to a misleading representation that the par baked bread products had been baked on the day of sale or baked in a fresh process using fresh not frozen product," the ACCC said in a statement in June.
The ACCC became aware of the case when former Victorian premier Jeff Kennett discovered a loaf of Coles bread subject to the 'freshly baked in-store' claim had been partially made in Ireland. Kennett mailed a loaf to ACCC chairman Rod Sims.
Kennett has since been appointed by Coles as an independent arbiter for supplier issues.