Coles keeps digging with catchy/annoying brand platform – goes 'Deeper Down Down'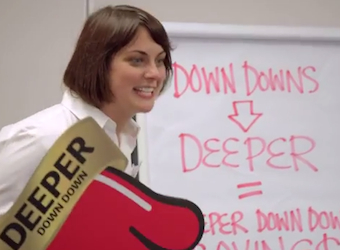 Coles has taken the game of price limbo it is engaged in with rival Woolworths a step further, making a swathe of new price cuts and launching a new leg of its 'Down Down' brand platform – this time going 'Deeper Down Down'.
The new spot, by Big Red, involves a staff meeting introducing the 'Deeper Down Down' concept before moving into the more familiar Status Quo sing-along ads.
A mother then pokes fun at complaints about past ads being annoying, saying, "saving money is never annoying".
Coles COO John Durkan said: "Coles' commitment to lower prices for Australian families is stronger than ever. 'Down Down' is a commitment that our customer's trust, but we are constantly looking for new ways to invest even more into keeping the cost of living down.
"Together with some of Australia's favourite brands, we are offering our customers Deeper Down Down prices. This means pantry staples that are already on Down Down will have their price reduced even further – with discounts up to 34% on brands including Nescafe, Lipton and Sanitarium."
"'Down Down' is a price commitment for six months, yet the new campaign highlights that this is simply a minimum requirement and in reality, many products have been held at the lower price point for over two years. Now rather than the price heading back up again, Coles takes them even deeper down – because we know low prices make a big difference to our customers," said Durkan.
http://youtu.be/5d0vw4axh1o