Coles' next-gen customer feedback project
Campaign: Tell Coles
Client: Wesfarmers
Agency: Twist of Lime
Background
Core to Wesfarmers' turnaround strategy for Coles was to become a more customer-centric organisation. Integral to achieving this was developing new capabilities in shopper insights to continuously understand and learn from the everyday shopping experiences of customers in Coles stores. Store experience is a crucial part of the marketing mix and a potential point of difference. Furthermore, overseas retailer experience showed that improved store experience increases loyalty, time in store and average spend per shop.
Prior to this program being implemented, Coles had no systematic ability to capture customers' store experiences continuously. Ad hoc research studies were expensive, slow and limited to a small selection of stores, not representative of the full fleet of stores.
Coles identified the opportunity to create efficiencies and new capabilities by developing a store experience survey that 'streamed' feedback from the stores through the organisation. By continuously listening to and learning from its customers, Coles believed it had the opportunity to drive improvements both at store level and at the store support office.
Objectives
The logistical limitations of traditional customer research were very apparent when we reviewed our list of requirements. We could not wait weeks to collect the data and report results. Generating hundreds of individual reports to stores and store operations teams was not going to be cost- or time-effective. Rather, our objective was to continuously collect data on customer store experiences across the fleet of 750 stores in real time, around the clock.
We also recognised that many of the recipients of the reports, such as store managers, would be unfamiliar with research. They would likely not see survey results as a priority compared to the range of other business operations metrics they have to deal with each day. Therefore, we needed to create a system that delivered feedback that could be easily understood and acted on by the stores. The feedback needed to be presented in a way that was engaging and with the highest levels of automation possible.
Most importantly, we needed to identify opportunities to improve the experience of Coles customers in the key areas of product and range, price and promotion and team member experiences. In other words, the feedback needed to be actionable and 'real' and prompt Coles store team members to think 'Why did that happen?' and 'How can I improve that?' Finally, the program would provide the insights team with the opportunity to 'piggyback' ad hoc surveys on to the store survey, significantly reducing spend on expensive stand-alone market research studies. We could also learn about shoppers' habits, motivations and needs and Coles could use this information to develop marketing and operational capabilities.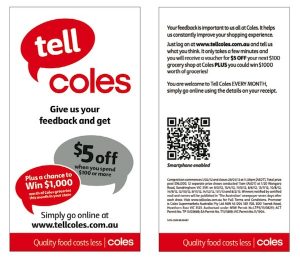 Strategy
Our strategy with 'Tell Coles' fell into two levels:
operational: gaining respondents' feedback and getting it back to the store and operations managers for their continuous review and action, and
store support: analysing the feedback data to identify general insights and improvement opportunities.
While simple in concept, the challenges in setting up 'Tell Coles' were substantial and often unprecedented. To deliver our strategy, a whole suite of new web-based technologies had to be developed, which collectively delivered a custom and world leading capability. This included developing a mobile optimised survey platform, online automated dashboard reporting aligned to the operational management structure, automated email push reporting to deliver results to managers' mobile devices each Monday in time for their operational review meetings, and dynamic word cloud technology for exploring open-ended customer feedback and identifying themes.
Execution
Our goal was to help Coles become nothing less than the most customer-focused retailer in Australia. From the outset, therefore, the Coles Shopper Insights team engaged with representatives from Coles Operations and listened to their needs and designed technology solutions to address them.
For six months, the Coles Shopper Insights team, Coles Operations Group and its partner Twist of Lime (a joint venture between web company WDU and research agency Evolve) worked together to devise a solution. The resulting 'Tell Coles' program was piloted in 240 stores from November 2009 to September 2010. The program was launched in all Coles and Bi-Lo stores nationally in October 2010.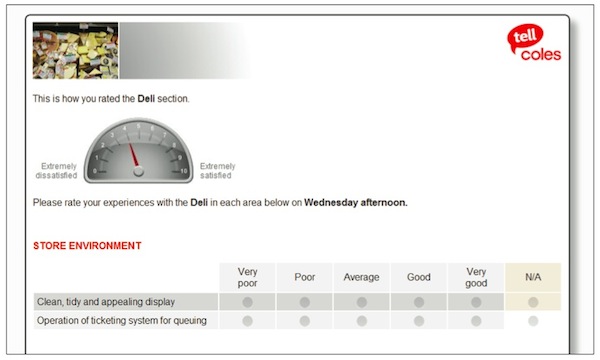 Invitations were distributed to stores, and short training sessions were run with team members on how to approach and invite customers to participate in the program. The invitations included QR codes to launch the mobile version of the survey (around one in 10 surveys is on a mobile device). Customers were encouraged to participate by offering a $5 discount off their next $100 grocery shop and entry into a monthly $1000 prize draw.
An SQL (structured query language) database and ASP (active server page) front dashboard were designed to report results to stores and store support. Designed with users in mind, the dashboard displays results each week and identifies key improvement opportunities according to defined criteria. The results are collated to match the user profile: store managers see only their store feedback, while regional managers receive an aggregated view of all the stores in their region.
Customer comments can be mined using integrated dynamic word clouds to highlight the key themes from the customer feedback. An online analysis tool was also developed to allow the Coles Shopper Insights team to further drill down into the results, and allow analysis of ad hoc questions, which can be added to the program at short notice.
Results
'Tell Coles' has now been running at full capacity since December 2010. Currently, an average of 25,000 surveys are completed each month, with more than half a million individual customer surveys received to date, making this one of the largest research programs in Australia outside of the government Census. Testament to the value of this information to Coles, the internal reporting dashboard has received more than a million page impressions. Estimated savings on equivalent research costs over the life of the project have been estimated at over $4 million.
The feedback has been used extensively by stores to improve the in-store offer to customers. Since the program commenced, overall satisfaction with shopping in Coles stores has significantly increased, with one of the greatest improvements seen in the fruit and vegetable department. By matching feedback with basket spend data, it has shown that higher satisfaction drives increased basket size, implying considerable financial benefits from the program.
Improvements in customers' experiences of Coles are evident in many areas, big and small. An example is the Coles store in Dalby, which was receiving hundreds of customer comments regarding having no cover in the car park, despite being located in tropical north Queensland where it is either extremely hot or pouring with rain. Based on the consistency of customer comments, Coles was able to negotiate with the centre owner to have shade sails erected, resulting in very happy customers.
This level of information ensures Coles is always looking at the performance of stores through the eyes of the customer. By asking customers to say what they think of their store, Coles is giving itself the greatest opportunity to provide a superior shopping experience. Embraced by customers, store managers, line managers and the executive team at Coles, 'Tell Coles' is now an integral part of everyday business at one of Australia's largest and most important retailers.
Did you know: you can see all of Marketing's highly-transparent case studies first and with stunning high-resolution glossy photography by becoming a subscriber? It's only AU$45 for a whole year, delivered straight to your door. Find out more »