Coles relaunches beefed-up Flybuys with Dawn French ad campaign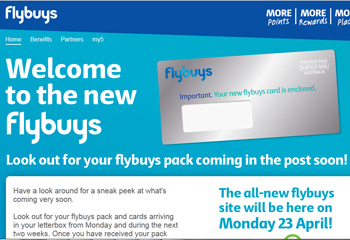 Coles has taken its war with Woolworths into loyalty program territory, relaunching Flybuys and enlisting Vicar of Dibley actress and comedian Dawn French as the face of the campaign.
The revamped Flybuys program brings on board new business partners including Telstra, WebJet and AGL Energy, and with a stab at Woolworths' Everyday Rewards program will offer rewards "for the frequent buyer, not just the frequent flyer".
From Monday, eight million households will receive new cards in the mail for the beefed-up program, which lets customers redeem points for flights and holidays with WebJet and at Coles, K-Mart, Liquorland, Target and 1st Choice Liquor.
The number of points earnt per dollar has been upped from 0.4 to one and Coles is claiming a 'world first' with the introduction of its My5 offer, which gives Flybuys customers 10% off five products of their choice when spending over $50.
Coles MD Ian McLeod says the retailer decided to rip up the rule book with the new program and create a more holistic rewards scheme: "Our aim was to find new ways to give our customers something truly worthwhile as a thank you for choosing to shop with Coles. We wanted to make flybuys the card for the frequent buyer, not just the frequent flyer," McLeod says.
New partners Telstra, WebJet and AGL Energy join existing partners NAB and Wesfarmers-owned K-Mart, Target, 1st Choice Liquor and Liquorland, as participants in the rewards program.
AGL Energy general manager Ken Hodgson says the utility provider decided to join the program after research showed 88% of energy customers are involved in rewards programmes.
"Traditionally purchasing energy has been a basic transaction, with little additional benefit for gas and electricity customers," Hodgson adds. "The new relationship with Flybuys is part of AGL's continued commitment to leading the energy sector by offering consumers a better choice in terms of value and service."
Telstra is also getting involved in the relaunch, running a special promotion of nine points for every dollar spent on recharges on pre-paid products and bonus points for phone purchases.
French will front two TVCs for the campaign, to spread the message 'get it, open it, activate it' ahead of the card's mail drop and introduce the My5 program.