Collette Dinnigan, slip a Shrimpton miniskirt on Barbie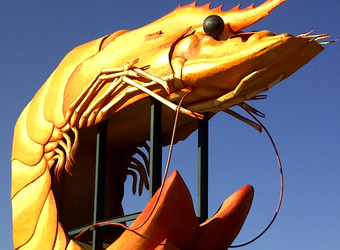 Almost 50 years ago, the 'face of the '60s', supermodel Jean Shrimpton, helped launch the miniskirt when she wore a high cut dress by London fashion designer Colin Rolfe, sans hat, to the Victoria Derby, where it was certain to be seen and talked about. As a fashion marketing statement, both literally and figuratively, the gloves were off.
The UK's Dr Mark Ritson, an acclaimed columnist, respected business academic on three continents, and adviser to Luis Vuitton Moet Hennesy, tapped the rich vein of Anglo-Australian sport rivalry last week with a challenge to Aussie retailers.
Australians are known for our drive to dominate cricket, he argues in Marketing Week, but if we aren't as spirited defending iconic Australian brands they won't survive.
As Ritson rightly observes, Australians are at our "tempestuous, horrendous best" with our backs against the wall. At these moments, well should be motivated by some friendly sledging. It's indeed time we channelled the determination of (one time Veuve Cliquot Businesswoman of the Year) Janet Holmes a Court, to disprove our detractors.
In his roll call of "formerly successful fashion brands" the likes of Collette Dinnigan cop a drubbing and are challenged to rise to the free market's latest test. Australian clothing brands are fighting a war on two fronts – against newly arrived foreign brand outlets, and the growing accessibility of yet more brands driving sales online.
Beyond Australia's geographic proximity to the new economic centre of the world, Australia holds several advantages that have yet to be leveraged which could help us dominate food and fashion marketing.
During the global financial crisis, when most economies faced up to austere times, the Australian government drove its economy into record debt, allowing its citizens to holiday (and shop) abroad as never before. During this time the Irish tourism board named Australia as its number one growth market and its key source of tourism income. This was no mean feat for a country with less than 1% of the world's population, geographically more distant from Ireland than any other.
Australia's foreign shopping spree was noticed by the world's retailers, who began to aggressively drive marketing attention towards Australian consumers.
Throughout this time, Collette Dinnigan's personal brand (including her success working with Australian filmmaker Baz Luhrmann) helped redefine Australia as a vibrant and creative nation.  Our tourism industry has benefited from Collette's role as a tourism ambassador.
Through the 'Friends of Australia' program, Tourism Australia works with influential ambassadors and opinion leaders drawn from the sporting, fashion, culinary, artistic, media and other worlds. They act as storytellers for Australia in the mainstream media, social media and other consumer-facing platforms. Their combined stories personify Australia, and encourage interest in travel to our shores.
But like many of the 'names' who have lent their celebrity to the tourism ambassador program, Dinnigan has yet to fully leverage the reciprocity that should come from her support for Australian tourism. The time has come for her to 'do a Shrimpton' and leverage enormous unexplored internet protocol television (IPTV) coverage of regional horse racing 'fashions on the field' and other tourism platforms to clothe an army of Chinese brand ambassadors.
One good thing that has come from six years of Labor government under-investment in tourism has been in the way it has encouraged Tourism Australia 'to do more with less'. When the Australian dollar appreciated in value vis-a-vis other currencies, Tourism Australia's advertising purchasing power increased. Yet, the agency was forced to return 'surplus' funds to consolidated revenue. The Australian government did not recognise that a high dollar made Australia a harder sell to prospective visitors who had other options for cheaper holidays – and this required a retained agency budget to offset that impact.
Tourism Australia, by necessity, targeted its marketing towards key Asian growth markets. It has also become the world's best digital and social media tourism marketing agency – investing in quality web content production, and driving distribution through free social marketing. Although outbound tourism outstrips inbound visitation, Australia's tourism trade deficit would have been far worse had this strategy not been employed.
Incoming tourism minister Andrew Robb has inherited a fit and effective agency, experienced in coping with the budget tightening measures now being applied across the Australian bureaucracy, and expert in pitching Australia and everything Australian as premium product.
Australia is also home to some of the world's leading digital television producers. Brand New Media has built a 'Food For Life' digital channel for Singapore's Fair Price Supermarket, and a similar IPTV channel for Tesco's supermarket in the UK. On Sunday it launched the world's first digital surfing channel mySURF.tv. Its latest offering amply demonstrates how the billion dollar market in surf equipment, beach fashion and associated lifestyle brands can be broadcast to an enthusiastic, cashed up, and highly socialised online community.
Another Australian company, Dragon Broadcast, is similarly well positioned to drive Australian food and fashion brands via a relatively cheap platform. Dragon has runs on the board in Australian food and tourism. Episodes of its Global Getaways program were purchased by the Chinese government's national television network and broadcast to an audience of 44 million people, showcasing Hamilton Island and other Australian travel destinations. Similarly well connected in Indonesia and Malaysia, Dragon offers excellent reach throughout Asia. What makes them logical conduits for tourism and consumer brand marketing is their ability to build, operate and market IPTV channels, like Brand New Media. This makes content by these businesses accessible in any country with a web-connected population, at a fraction of the price of traditional media.
These circumstances put Robb in the box seat. The day he was appointed tourism minister, further to his trade and investment responsibilities, Tourism Australia announced its marketing focus would leverage our under-valued food and wine product with a new campaign, 'Restaurant Australia'. This is a sophisticated, up-market evolution, where once Paul Hogan offered to "slip an extra shrimp on the barbie".
Given his background as managing director of the National Farmers' Federation, there could be no better vehicle through which to back Australia's strengths in agriculture and food manufacturing. Furthermore, Robb has inherited industry stakeholders who understand the opportunity of leveraging related variety of farming, manufacturing, and tourism.
Bruce Baird, chairman of the Tourism and Transport Forum was chairman of the Howard Government's retail competition inquiry. Rodger Powell, CEO of Tourism Accommodation Australia is also chairman of Otway Pork. Richard Mulcahy, a professor in tourism at the University of Queensland is also CEO of leading horticulture group AUSVEG. Tracey Valenzisi, CEO of the Australian Regional Tourism Network backs the Australian Rice Festival event as a councillor.
With last week's reporting on Nielsen research, in context of Australian food factory struggles to stay competitive, the Australian food manufacturing sector must tell brand stories better, giving food consumers personal connection with product. For foreign consumers it's the Australian product quality attributes. For locals it's this, plus factory jobs, farm viability, and so forth.
The potential of 'Restaurant Australia' has yet to be fully appreciated, yet it's perfectly suited to derive maximum benefit for the Australian economy, not just the tourism sector. In its launch video, the faces of Australian food (Maggie Beer, Kylie Kwong and others) welcome the leveraging of food to benefit tourism. For any of these identities, the association between our national brand and their FMCG products, cookbooks, signature restaurants, television shows and other revenue streams can't be overstated.
The Government's move to combine the tourism and trade portfolios has also made the 'Restaurant Australia' campaign the perfect vehicle to achieve twin objectives – encourage visitation to Australia, while shoring up consumption of Australian made food and wine brands, the promotion of which Robb will also drive in foreign trade fairs and delegations.
Food tourism turns FMCG consumers into loyal brand supporters, and often-committed active brand advocates. It provides a platform to open up farms and food factories to tourists, which not only entertains them, but also engages them to the extent that they become consumer brand advocates.
The challenge to link iconic Australian food and fashion brands to positive tourism experiences is an effort worth making. It is firmly grounded in research such as the UNWTO report on Culinary Tourism (2012) and the ABARES report on Agritourism (2010), backed up by separate research commissioned by Tourism Australia (Blue Moon research in China, and global research on food tourism by Euromonitor).
By expanding this simple formula from Australian food to our local fibre producers, Robb can deliver for our local textiles and fashion industry.  Dispersal of tourists to country farm stay homesteads, to experience country shows and the like should not only drive sales of fruit from farmers' markets.
The inbound Chinese gent, mad about horse racing, ought to be wearing tailored Australian 'bags of fruit' at hundreds of country race meeting events. Likewise, Englishmen in our midday sun should wear an Australian made 'tit for tat'.