Miranda Kerr is the most 'Binged' Australian celebrity of 2013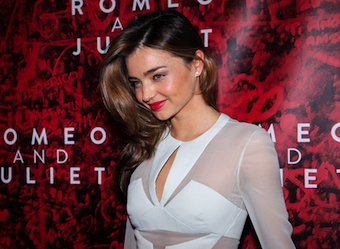 We're still not convinced at the prospect of 'Bing' becoming a verb and although it still hasn't found its way into mainstream vocabulary, that hasn't stopped search engine Bing from releasing their global 'most Binged' list today.
Supermodel Miranda Kerr has topped the most Binged Australian celebrity category for the third year in a row, ahead of Kevin Rudd, Tony Abbot, and Julia Gillard who all appeared in the top five thanks to this years federal election.
Surprisingly, or not, Miley Cyrus managed to influence several Australian categories: She was the top searched person in Australia, and 'Twerking' was the second most searched word, only losing out to 'lol'. Her song Wrecking Ball landed a top five spot in the most searched songs category (Robin Thicke's controversial song Blurred Lines took out number one), and 'Miley Cyrus Twerking' was the fourth most searched news story of 2013, narrowly beating the Spanish train disaster.
When it comes to finding love online, dating application Plenty of Fish swam into the number one spot, and addictive app Tinder has swiped a top five spot, despite only being launched in Australia in June.
The Royal baby captured Australia's hearts (and our keyboards) this year, as the most searched news story, and results of the top sporting teams will disappoint NRL fans as AFL teams filled the top three searched spots.
Below is a more detailed look of the Australia results for 2013:
Most Binged Australian Celebrities 2013:
1.       Miranda Kerr
2.       Kevin Rudd
3.       Tony Abbot
4.       Julia Gillard
5.       Shane Warne
Most Binged Fitness & Foodie Fads 2013:
1.       Quinoa
2.       Cross fit
3.       Protein balls
4.       Green Smoothie
5.       Squat Challenge
Most Binged Dating Applications/Sites 2013:
1.       Plenty of Fish
2.       Zoosk
3.       eHarmony
4.       Blendr
5.       Tinder
Most Binged Internet Trends and Hashtag Language 2013:
1.       Lol
2.       Twerking
3.       Fml
4.       Yolo
5.       Omg
Most Binged News Stories 2013:
1.       Royal Baby Born
2.       Boston Marathon Bombing
3.       NSW Fires
4.       Miley Cyrus Twerking
5.       Spanish Train Crash
Most Binged Sports Teams 2013:
1.       Sydney Swans
2.       Hawthorn Hawks
3.       Fremantle Dockers
4.       Parramatta Eels
5.       South Sydney Rabbitohs
Most Searched TV Shows 2013:
1.       Big Brother
2.       Game of Thrones
3.       Breaking Bad
4.       X Factor
5.       The Voice
Most Searched Songs 2013:
1.       Robin Thicke – Blurred Lines
2.       Katy Perry – Roar
3.       Miley Cyrus – Wrecking Ball
4.       Lorde – Royals
5.       Lady Gaga – Applause