Colliers gets digitally savvy
Campaign: Colliers International digital marketing automation
Client: Colliers International
Agency: Sitecore Australia and BlueArc Group
Background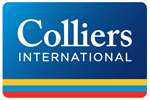 Colliers International is a global leader in integrated property services, representing property investors, developers and occupiers in local and global markets.
Consistently ranked in the top 100 global outsourcing businesses by the International Association of Outsourcing Professionals and recognised as Australia's most awarded property services company, Colliers needed a step-change in its web presence and digital marketing capability to maintain its market advantage.
While Colliers International's global brand refresh was the catalyst for the organisation's website review, it was also recognised that Colliers' existing web content management system (CMS) was not able to adequately meet the requirements of staff, clients and stakeholders. An inflexible system meant straightforward content updates were burdensome and frustrating for staff. The functional limitations of the software were restrictive and prohibited modern digital marketing strategies to drive online enquiries.
Colliers International recently won Sitecore's Site of the Year Award in Australia and New Zealand for its outstanding use of Sitecore's Web and Online Marketing solutions to deliver more effective business processes that advance digital strategies.
Objectives
As Colliers continued to experience sustained growth both nationally and globally, the company urgently required an accessible digital solution that could provide the desired flexibility and scalability to meet evolving business requirements.
A new CMS was required to allow in-house publishing, project marketing, cost and resource efficiencies and, importantly, integration with new CRM (customer relationship management) software to produce meaningful marketing metrics and qualified leads for the business.
Strategy
Chosen for its global reach and ranking in the prestigious Gartner Magic Quadrant for Web Content Management in 2009 and 2010, Sitecore was selected to partner with BlueArc to revolutionise the web presence for the Australian operations of Colliers International.
Faced with a formidable task of developing a new Australian web presence for Colliers International, Sitecore Australia and BlueArc implemented a strategy to rebuild the Colliers International website from the ground up.
Taking a customer-centric view of the website, BlueArc and Sitecore employed a broad range of usability testing and user engagement activities to develop the website's architecture and strategy.
Combining best practice web development methodologies, from search engine optimisation (SEO) to the latest in lead generation marketing features, Sitecore and BlueArc were able to refine the website to create a marketing tool for Colliers International's competitive advantage.
Execution
The implementation of the Colliers site was carried out in a phased approach. The first phase was the envisioning and planning of the project. This phase included a requirements gathering exercise, whereby a BlueArc business analyst and project manager engaged key project stakeholders in a series of workshops to ascertain the site's core requirements and Colliers' overall business goals.
The intelligence gathered at this stage was used to inform the information architecture of the site, an interactive prototype, and functional and technical specification documentation. This consultative process undertaken by BlueArc paved the way for the creation of a blueprint against which the project could be tracked and that effectively reduced any risks associated with the project for Colliers.
The second phase of the project comprised the design, development and delivery of the new Colliers website. BlueArc designed a clean and contemporary user interface that incorporated Colliers' new global brand guidelines and provided a user experience that effectively communicated Colliers' broad offering to its audience.
The design and development of the Colliers website was carried out on a dedicated staging server, which enabled key project stakeholders to preview the development of the site at a private address, prior to moving it to its final public location. The development of the website included:
– building the site HTML templates, navigation, page layouts and style sheets
– customising Sitecore's CMS to fit the site architecture
– thoroughly testing multiple platforms and browser types to ensure W3C (world wide web consortium) compliance
– web-to-mobile conversion, and
– integration testing.
At the completion of the development phase, BlueArc undertook the final installation, configuration and testing of the website on BlueArc's dedicated web server.
This phased approach taken by BlueArc provided Colliers with a manageable, risk-free implementation strategy, which accomplished a full and timely realisation of its online vision.
Results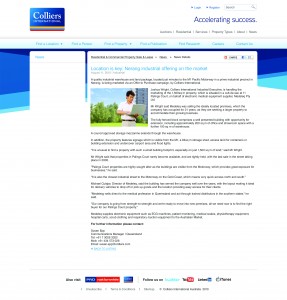 External
Colliers International's investment into its Australian web presence has not only achieved immediate and direct commercial benefits, it has delivered a digital marketing asset to enable the organisation to remain number one within the property sector.
Within just a few months of launching, the Colliers brand refresh promotion combined with the website optimisation has seen monthly site visitation increase 15 percent, with visitors spending much longer on the site. First quarter (Q1) enquiries this year have increased on average by 30 percent from Q1 last year, through vastly improved usability, search and navigation, while feedback from clients, prospects and operatives has been profoundly positive.
Attracting over 45,000 unique visitors a month, the website now presents visitors with an intuitive and logical user interface to allow easy navigation of Colliers International's wide service offering. The new colliers.com.au website is now the number one visited website within the Colliers International group.
According to David Finnimore, national manager Online Marketing for Colliers International, "Sitecore has truly ticked all the boxes, tackling real issues faced by our business with ease. The results are exactly what we were hoping to achieve and it's great to be leading the way in the digital sphere within Australia's property sector.
"This new website recognises Colliers International's focus on innovation and our commitment to providing customers with an exceptional user experience. The new website has become one of our most strategically important business assets. It provides us with quantifiable results and the ability to monitor and rapidly respond to the changing needs of our customers. Our digital technology partner, BlueArc, has again demonstrated service excellence by bringing to life an online solution, underpinned by a solid technology platform in Sitecore that aligns to our long-term business requirements.
"We have a raft of plans that will raise the bar even higher and we'll continue to work with BlueArc and Sitecore to make further enhancements to our website to continue to offer customers a world-leading online experience."
Backing on the successful Sitecore CMS implementation, Colliers International is currently working to extend the platform to run its subsidiary business, PRDnationwide.
Internal
With the use of the Sitecore CMS, BlueArc was able to build a website for Colliers that seamlessly integrated with its existing systems and facilitated improved online communication.
The Sitecore CMS now enables Colliers staff to manage website content easily and efficiently. Decentralised authoring allows content authors across regional centres to publish information to the appropriate sites. The user-centric Sitecore platform empowers non-technical staff and frees up the IT department allowing them to focus their attention on other tasks.
With the use of Sitecore, administration of content is now centralised in Corporate Marcomms, but open to divisional marketing managers due to permission rights. "This created huge back of house productivity improvements and was something we previously were not able to achieve and secure," says Finnimore.
An attractive and functional interface is optimised to provide a consistent and intuitive user experience, enabling Colliers to achieve service excellence through its online offerings.
Other new digital marketing capabilities that were delivered include social media integration, videos, podcasts, RSS feeds, an expert locator tool and property showcases.