Converse and Amplify clean Melbourne air with 'City Forests' sustainable public art campaign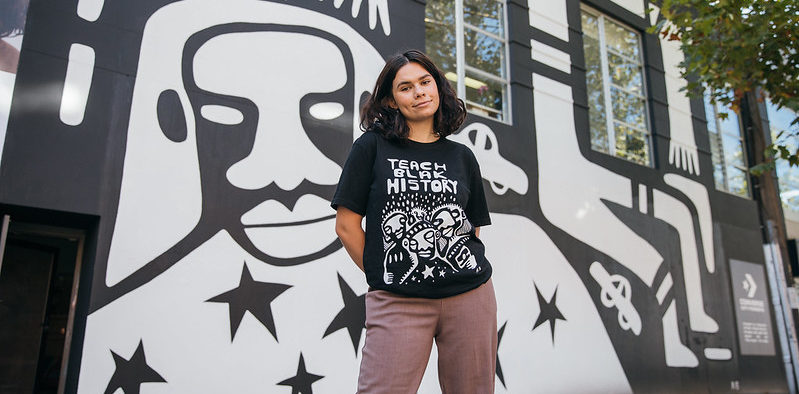 Converse released its global campaign on Melbourne streets, Converse City Forests. This is a collaboration with All Star member and Gumbaynggirr artist/activist Aretha Brown. The campaign focuses on painting a mural that could clear the air and start a conversation about the Indigenous urban identity.
The mural is located at the Converse Fitzroy store. It cleans the air by utilising paint that absorbs the equivalent air pollutant of 128 trees. Globally, Converse has activated these sustainable murals in places from Singapore to São Paulo, 'planting' the equivalent of 8,033 trees.
Aretha was named the Prime Minister of the National Indigenous Youth Parliament in 2017. She is known for her activism and using her creativity as a vehicle to raise awareness about issues of Indigenous and First Nations Peoples.
The design for the Converse City Forest mural is a celebration of Aboriginal matriarchs and signifies the integral role of elders as a pillar for community. It also acknowledges the role of youth and how Indigenous culture exists within modern life.
As part of Aretha's creative process, she consulted with Aboriginal Elder and well-known actor, Uncle Jack Charles to learn more about the Indigenous history of the area where the mural is painted and sought support for the project from Annette Xiberras, Wurundjeri elder. Aretha also likes to empower other young artists by forming her own 'femme crew' to help paint her larger scale artworks.
"The main objective of my art and my activism is to make sure that young Indigenous people have a voice," says Aretha.
From a brand perspective, giant QR codes located next to the mural take passers by to a Converse webpage that profiles Aretha as an artist, explains the meaning behind the mural and shares links to the National Indigenous Youth Education Coalition (NIYEC) website.
As part of the campaign a limited-edition 'teach blak history' t-shirt, also designed by Aretha sold out within 24 hours of release with 100 percent of proceeds being donated to NIYEC, in support of their invaluable work with Australia's Indigenous youth.
As cities reopen and recover, the hope is that these murals can be a bright spot: provoking dialogue on the role art plays in our daily lives and on the streets, and reflecting a more sustainable and equitable future through the messages from local young creatives.
Gareth Davies, managing director at Amplify says, "Watching these large format murals go up across Australian cities is exciting. They celebrate local creatives, champion important causes for young Australians and underline the importance of trees in the fight against climate changes."