Creativity and crowdsourcing: how does Australia stack up globally?
Yannig Roth asks whether Australia's crowdsourcing adoption show marketers' openness to innovation and creativity.
Today, talk about the 'dying of the light of creative thought' in Australia says that data-driven marketing kills creativity. "It's time for brands to step up, trade fear for boldness and allow the big ideas through their safety filters and out into the world of consumers," Simon Canning recently wrote. Is the situation really that bad? Is Australian business really risk-averse and uncreative? We don't think so.
Australian marketers are fun, creative and have a sense of humour. They have produced some of the most remarkable pieces of user-generated content or public service announcement campaigns, and recent Cannes Lions winners included McCann Melbourne and V/Line in the ad effectiveness category, as well as WHYBINTBWA Melbourne for ANZ Bank – which transformed Sydney's ATMs into GAYTMs during the Gay & Lesbian Mardi Gras – in the Outdoor category.
Rankings confirm that Australia is a particularly creative and open country. The country indeed ranks first out of 139 nations in The Martin Prosperity Institute's latest Global Creativity Index – which looks at talent, technology and tolerance to assess which economies are the most creative economic performers – and sits in third place globally when it comes to cultural openness in IMD's Global Benchmark Report. This openness translates into real-world initiatives, previous McDonald's Australia CMO Mark Lollback recently said in an article about #MaccasLunchbox: "We watch what other McDonald's countries are doing and if it's something interesting we'll see if it's right for here."
One manifestation of Australians' openness to marketing innovation is their success in running and utilizing collaborative platforms. Global crowdsourcing leaders with Australian origins include Freelancer, 99designs or Kaggle, which have managed to leverage and facilitate distributed creativity on a global scale. The data science network Kaggle currently runs a competition to predict in which country a new Airbnb user will make his or her first booking. The best participants will have a chance to join Airbnb's Data Science staff.
In marketing, this openness translates to a greater willingness to embrace new technologies and practices, to embrace novelty rather than to reject it. "Innovative marketing is extremely hard to achieve. Particularly after the global financial crisis, businesses have had to sink or swim in the face of dwindling profits, relatively expensive local labor and rapidly changing user-behavior due to digital disruption," says Natalie Yan-Chatonsky, experienced product innovation leader and creative entrepreneur from Sydney. "Today, there has been a growing trend for savvy business and marketers to use two-sided digital marketplaces to drive both creativity and efficiencies," she explains.
Matthieu Jacomin, director for Australia and NZ at crowdsourcing agency eYeka, confirms that local companies have swiftly embraced crowdsourcing as a new way to innovate and market their products – "Australia is a super creative, competitive and digitally advanced market. I think this is the reason why Australian marketers are often open to experiment with new techniques like crowdsourcing. We have a global footprint and many global clients, but I found Australian brands to be particularly open to experiment – which has been successful."
Jacomin has grown eYeka's business successfully in the last years, in which creative crowdsourcing has seduced numerous Australian brands, like Pop Tops which launched a poster campaign inspired by a Belgian Millennial, but also a social video campaign for Australia Post, or a project in which Nescafé Australia pioneered open innovation to reinvent instant coffee:
"This project in Australia has ushered more collaborations across Nescafé globally. After this Australian project, we have crowdsourced ideas to turn Nescafé into a sought-after gift for Chinese New Year, or stories to inspire the brand's communication in Vietnam. Many of these projects would not have been possible if there had not been a successful Australian pilot project initially. I think some local marketers are particularly courageous, which makes it easier to proof the value of our concept, " explains Jacomin, pointing at a trait that may be specific to Australian marketing professionals.
In an article published on Marketing in September 2015, Nestlé Australia's head of marketing for confectionary and snacks Chris O'Donnell elaborated on why it turns to crowdsourcing for brands such as KitKat, Allen's or Lifesavers: "[Crowdsourcing]
provides us with a structured platform based on a very tightly-defined brief and strategy for our brand. We're looking at how we can broaden the spectrum of ideas and get new ideas into the business. […] We were very comfortable with what we got back and felt it was bringing new ideas into the business."
Are these examples representative of a higher openness to novelty and external ideas? Is Australia more fertile soil for innovative marketing strategies?  "Marketers and product managers will always be hungry to tap into new, innovative ideas and creative executions that will set them apart from their competitors. No matter how they end up sourcing the creative labor, the key to their success is being able to articulate their intrinsic knowledge about their markets, the externally contributed ideas, and what value do their products bring to their target market. For those marketers who already do this well, creative crowdsourcing platforms are going to enable them to speed up the rate at which they can iterate and design new concepts and products," says Yan-Chatonsky.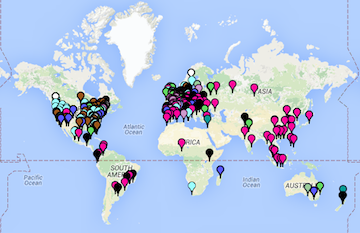 Despite this excitement about collaborative platforms on both the entrepreneurs' and the marketers' sides, one could wonder whether or not Australian participants are as interested in joining the party. While eYeka's quarterly leaderboards rank Australian creatives consistently high, this curated map shows that Australia has much less featured participants than in continents like Europe or North America, and Kaggle user ranking's first Australian members ranks 182nd and 236th behind a number of American, European and Russian data scientists. Does that mean that the Australian crowd is less open to experiment than the marketing professionals they work with? Is there a disconnect between willing brand sponsors and reluctant consumer participants?
In the past, Australian crowdsourcing has indeed not always gone well. But in recent years, it seems that both marketers and consumers have gotten into it. Australians have been among the Crash The Super Bowl finalists in all installments where submissions from non-US residents were accepted, which shows that – even though they have not won the grand prize – Australian creativity is cutting-edge. And so are local marketers.
Yannig Roth is marketing manager at eYeka.