'Customer experience' jumps to top of marketer priority list: SMG Media Futures
'Customer experience' is the biggest priority for Australian businesses in 2016, according to futures figures released by Starcom MediaVest Group.
51% of marketers identified CX as the biggest opportunity for their business in 2016, ahead of content marketing (42%), big data (38%) and social media (33%), however despite the findings only a meagre 6% of marketers believe they are successfully implementing a true customer experience.
SMG CEO Chris Nolan says the results show that marketers are looking to agency partners for solutions and have a clear intent to invest heavily in infrastructure.
"Marketers are looking to agency partners to provide solutions, with 61% looking for data capabilities and 52% for technology capabilities from their partners," he says.
"Not surprisingly, both marketers and media have signalled they are committed to investing in infrastructure, particularly people and skills (78%) this year and into 2017," says Nolan.
Marketers also indicated that there will be a focus on investing in owned assets such as websites and data management platforms in 2016. Conversely, media said they will put an emphasis on investing in personalisation, mobile and data.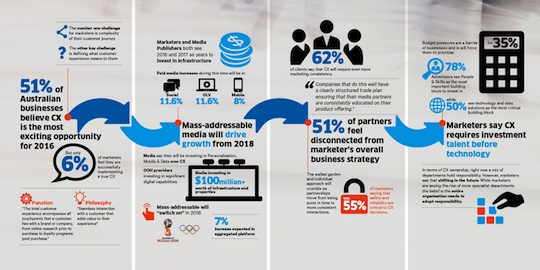 Nolan says the coming years will see a turning point, where industry growth driven by largely driven my mass media.
"2018 will be an inflexion point where industry growth will be driven by mass addressable media," says Nolan.
Tying in with this notion, marketers indicated the biggest growth in spend will be on the channels most identified with CX. Social media and online video are both expected to be up 11.6%, while mobile is expected to increase to 8%.
In contrast, respondents said spend on print media would be reduced, despite the fact total spend for 2016 is expected to rise. Respondents said spend on magazines would be down 7.1%, while spend on newspapers will be down 4.4%
Nolan says outdoor and digital are also expected to be heavily invested in as marketers look to achieve scalable control of their customer experience.
"Digital powered TV and outdoor will allow marketers scalable control of their customer experience and we believe we will see a resurgence of investment – up to double digit growth – in these platforms," says Nolan.
In 2016, SMG Media Futures is being published as a website that will be updated regularly.