Deakin University thinks young for first brand campaign in three years
Deakin University has launched 'Think Young', a bold, colourful brand campaign, its first in three years.
Integrated creative agency The Royals creates bold, new campaign for Deakin University across multiple media and content channels, celebrating the university's progressive mindset.
It's Deakin University's first brand campaign in more than three years. The integrated campaign 'Think Young' has executions across television, digital video, high-impact outdoor, social media, native and content channels, 'Think Young' features forward-thinking academics, students and alumni to demonstrate Deakin's commitment to open-mindedness and new ways of thinking.
Among those featured are Alex Smith, a business and law student; Barun Chatterjee, a photography and international relations major turned international filmmaker; and Professor Ying (Ian) Chen, whose team manufactured a super-absorbent material called boron nitride nanosheet, described as one of the most exciting advancements in oil spill clean-up technology in decades.
The campaign, created by The Royals, is a colourful response to increased competition and clutter within the university sector. Drawing inspiration from the Light and Space movement of the 1960s that prefigured today's merger of art and technology, the campaign uses geometric shapes to represent the problems of the future and encourages people to use new thinking to create a better tomorrow.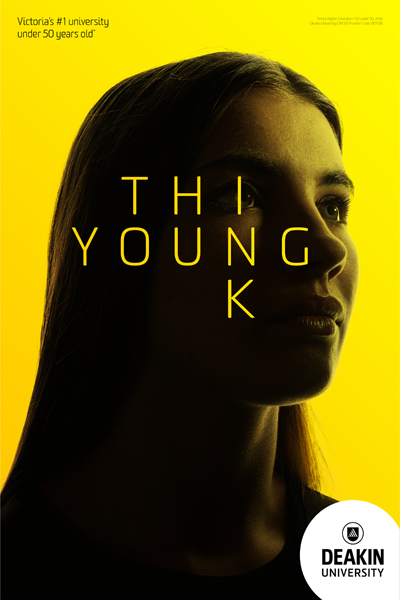 The Royals' executive creative director Nick Cummins says: "We wanted to create a campaign that was a distinct contrast from the rest of the University category. With 'Think Young', the execution had to feel as fresh and modern as the idea itself. The ability to hero members of the Deakin community who 'Think Young' on a daily basis gives the campaign an authenticity that's impossible to fabricate."
Deakin University is ranked in the top 2% of the world's universities (Academic Ranking of World Universities, Times Higher Education, QS World University Rankings) and is the top university in Victoria under 50 years old, according to the Times Higher Education top 150 under 50. Deakin's also been awarded the top ranking for student satisfaction in Victoria for six years in a row (2010-2015 Australian Graduate Survey).
"Deakin is a young, vibrant and cutting-edge university with great ambitions," says Trisca Scott-Branagan, executive director of marketing at Deakin University. "And it's our people that are the embodiment of our culture and the essence of who we are as a brand. 'Think Young' represents our challenger mindset and aligns our marketing and reputational goals for the future with those of our extraordinary students, staff and Deakin alumni."
---
RELATED: 'Unlimited' – creating the new Western Sydney University brand. Read the case study »