'Hawk drop snake on family bbq' viral video revealed as marketing stunt for Hawthorn Football Club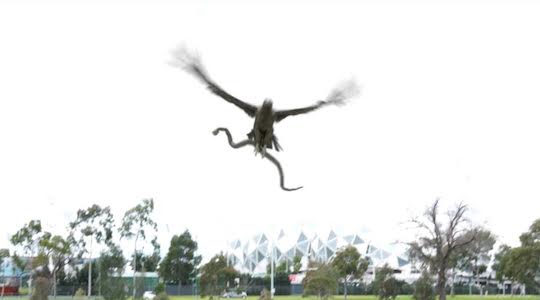 An AFL footy club is behind a fake viral video of a hawk dropping a snake on an unsuspecting family.
AFL club Hawthorn Football Club, nicknamed the Hawks, has claimed the viral 'hawk drop snake on family bbq. lol.' video as a marketing stunt to help Hawthorn launch its 2016 finals campaign 'Embrace The Hunt'.
Independent Melbourne production house The Woolshed Company created the video in collaboration with Hawthorn Football Club. The production company grabbed global media attention in July when it was revealed it had created eight of the world's most famous viral videos scoring 215 million views.
With five million views, 90,000 shares and 115,000 likes in two days, the video of a hawk snatching up a snake and dropping it on an unsuspecting family barbecue in Melbourne has sparked online debate over the video's authenticity in comments and online publications.
Dave Christison, co-founder and MD of The Woolshed says Hawthorn approached the production house after learning of its previous viral experiments, briefing it to create an innovative marketing stunt for the club as it heads into 2016 finals season.
"It was exciting and humbling working with Hawthorn. They rolled the dice on something brave and unconventional, and it's paid off," Christison says. "The project turnaround was extremely tight, taking only two weeks. Hawthorn were incredibly trusting and collaborative, giving us full creative freedom but also being hands on to help during production."
Hawthorn came forward to claim the viral video sensation on their Facebook page yesterday. 'Embrace the Hunt' launched on Wednesday afternoon as the Hawks begin their quest for a fourth straight premiership. "It was quite incredible," says a Hawthorn spokesperson.
"We wanted everyone to know that it's September and the Hawks are on the attack and hopefully we've succeeded. Our aim was to create a real buzz around the launch of our seventh consecutive finals campaign and really get people talking… Hopefully we haven't scared too many people off a barbecue by the Yarra."
The club has embraced online video marketing in recent years, including with a personalised video campaign at the start of the current season.