December's best global digital marketing- Argentinian air-conditioning brand offers need-based pricing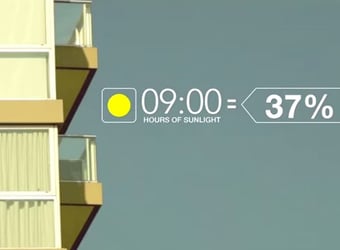 An Argentinian air-conditioning campaign was the best global digital marketing campaign in December 2014. 
European digital marketing research firm Best Marketing International monitors almost 300 digital award competitions worldwide. Based on the winners of these competitions, the research team shortlists 10 works and forwards them to an international expert jury for voting. Last month they monitored roughly 30 award shows from across the globe, including the World Luxury Awards and regional Effie Galas to name a few. Unlike annual award shows, Best Marketing International selects fresh works every month from the winners of local and regional award shows.
PREVIOUSLY: November Best Global Digital Marketing: Red Roof Inn's search campaign, Burger King's Motel, Turkish shoppable soap opera »
First Place: BGH 'My Home is an Oven' by Del Campo Saatchi & Saatchi (Argentina, El Ojo de Iberoamérica 2014 winner)
BGH is an air conditioner brand from Argentina, a country with extremely hot climate during the summers. Buenos Aires' cityscape is designed by skyscrapers. Direct sunlight turns these constructions into burning hell for the homeowners. Proper air conditioning is a must in such conditions. BGH decided to grant extra discounts to the houses that get exposed more to the sun than others. They created a sunshine-hour based discount system together with Google Maps and the Buenos Aires Ministry of Urban Development. As a result, the US $40,000 campaign produced a turnover of US $14,000,000 with 49,000 units sold.

What the jury said:
Peter Roper, editor, Marketing (Melbourne, Australia):
"Besides stunning sales results, this project was just downright cool (pun intended) – splicing municipal data with Google Maps and giving discounts based on the results. It's not easy to make customers feel like a brand actually cares about their particular situation, mostly because they don't. I'd like to see this type of concept in a wider number of industries, and as permanent initiatives rather than just campaigns."
Second Place: Nokia 'I'm Coming Home' by JWT DXB & Carat DXB (UAE, Effie Mena winner)
Nokia's campaign was targeted towards Filipinos working in the UAE: hard workers who don't get to visit their distant relatives very often. Teks Cards represent Filipinos' nostalgic childhood. By sharing their personal story on Facebook, people were able to win a trip back home on Valentine's Day. 600 people shared their stories. The 3 winners went home and their stories were shown on TV.
What the jury said:
Mike Berry, digital marketing lecturer, trainer author and consultant (London, UK):
"Wow. This is an uncomfortable one. We can all understand the pain of being separated from our loved ones; often this is forced by work commitments.

An important piece of background information is that most Filipinos who are today in their '40s or older will be familiar with 'teks cards' from their childhood (the '70s and early '80s); these were illustrated picture cards based on popular movies of the time, particularly targeted at those who couldn't afford to go to the cinema very often. Any association with teks is nostalgic and will strike a chord with this group. Amongst the 700,000 Filipinos in the UAE, there is great loyalty to the Nokia brand and therefore they were receptive to this campaign from Nokia which was specifically targeted at the Filipino ex-pat community. The campaign spoke loud and clearly to a group who are used to bland international generic advertising aimed at foreigners in the UAE; for once the Filipino Community was being specifically targeted with something which was both culturally relevant and emotional to them. TV, radio and Nokia UEA Facebook Page were the key channels.  
Third Place: Hermes 'Tie Break' by Buzzman (France, World Luxury Awards winner)
Notorious French fashion house Hermes launched an app for those in need for neckwear tips and fun entertainment. The application is available for both Android and iOS in English and French. Tie Break allows users to flip through different tie looks and once inspired, browse fresh products from the Fall-Winter 2014 collection.

What the jury said:
Gamze Gurbuzatik, JWT International, client services director (Istanbul, Turkey):
"Very simple idea, and great execution of within a simple app. Perfect match with the brand as well."  
For December, the jury consisted of Peter Roper (editor at Marketing Magazine Australia), Mike Berry (digital marketing lecturer, trainer, author and consultant, UK), Hando Sinisalu (CEO of Best Marketing International, Estonia), Gamze Gurbuzatik (JWT International, client services director Istanbul, Turkey) and Kusnadi Assaini (head of division at Digital One Jakarta, Indonesia).