McGrath Foundation Digital Cup gamifies fundraising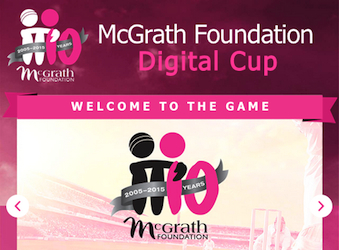 The McGrath Foundation is using gamification to fundraise on a scale not yet seen in Australia. The 'McGrath Foundation Digital Cup', launched on 20 January, is an online cricket game and fundraising platform, which can be played from smart phones, desktops and tablets.
The McGrath Foundation is celebrating its tenth anniversary year by partnering with gamification and digital specialist Pro-Active Games to create a shareable cricket tournament that applies game theory and mechanics.
The foundation hopes to re-engage the Australian public by putting the 'fun' back into fundraising, explains McGrath Foundation CEO, Petra Buchanan.
"We are increasingly looking for innovative ways to raise funds," she says.
More than 90% of Australian households own at least one device for playing games. Women account for nearly half (47%) of the eight in 10 parents gaming.
"The key to effective gamification is appealing to users on an emotional, rather than transactional, level; it's about achievement, recognition, competitiveness and generosity," says Pro-Active games creative director, Robert Holden.
The McGrath Foundation Digital Cup will give everyone a chance to bat, bowl and field their way to victory, signing up as either a coach or player. Coaches will serve up a $30 donation to lead the team and will then have the ability to invite their mates by email or Facebook to build their team of 11. Teammates make a $10 donation to play.
Teams can sign up between 20 January to 13 February, the tournament starts on February 14.
The McGrath Foundation Digital Cup "nails it", by bringing a much-loved sport to the pockets of Australians, with the ability to play friends, win awesome prizes, all while raising funds for a great Australian charity, says Holden.
All funds raised through the McGrath Foundation Digital Cup will go towards supporting the 10,000 families through breast cancer by placing breast care nurses in communities across Australia.