Direct mail: have we reached peak saturation or is it still a strong option for marketers?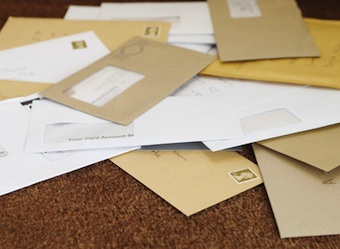 Though it may not appear as technologically whiz-bang as some of the digital marketing tools at our disposal, marketers see strong potential in direct mail as a channel, and a recent survey of Australians supports that view. The general consensus is that when marketers stay well informed and personalisation is employed, it's a channel that people prefer.
In 'Creating Connections That Matter', a study conducted by Quality Online Research and commissioned by Australia Post, consumers ranked personalised direct mail as the fifth most effective advertising channel behind, press, radio, catalogues and TV. It came ahead of email, outdoor, social media advertising, online display and telemarketing. In some industries, such as banking, superannuation and not-for-profit, the preference for personalised direct mail rose to be in the top two channels through which consumers want to be engaged.
The study found that direct personal mail was most useful to younger families, older families and those responsible for home duties with 62% of those surveyed saying personalised direct mail was simply easier to refer to later and more relevant to them as a consumer.
Cross-sell consumers were also found to consider websites and direct main the two most useful channels for advertising, and existing customers found direct mail and email marketing were the best two ways for existing customers to keep informed.
Data from Direct Marketing Association benchmarks backs up the research finding that direct mail is still a viable option for marketers. The latest data puts the benchmark for response rates at 1.1 to 1.4% versus 0.03% for email, 0.04% for internet display ads and 0.22% for paid search.
The global strategic consulting firm Winterberry Group predicts that direct mail spending will increase 1.1% in 2014.
But is direct mail at risk of saturation? The Fundraising Institute Australia put that question to a selection of marketers from different industries ahead of its FIA Conference 2014. Their responses were varied, but as long as marketers stay well informed, the consensus was that direct mail still performs.
"I'm not too sure whether direct mail has reached a point of saturation," says Bianca Ousley, community change architect from Fish Community Solutions. "But it certainly is a competitive area, with the majority of donors receiving multiple asks in their mail box. It's important for fundraisers to learn what is working best today, so they can achieve great results for their cause."
"Only time will tell which fundraising avenues will be with us in the years to come. That being said, many predicted the death of direct mail years ago and due to the talent of fundraisers, strategy suppliers, and mail houses, direct mail is still alive and well and growing for many.  I think it is most interesting that there appears to be a wave of attention on retention as of late," commented Stephen Mally, international principal consultant, Blackbaud.
Howard Rally, national director of Febfast, has a different opinion, apparently not content with anything but exponential growth: "It depends if we're content to live with 1% response rates as a definition of success.  When was the last time anyone got out of bed to chase 1%?" he said.