Domino's 'me-tail' platform lets anyone create, market and profit from their own pizza designs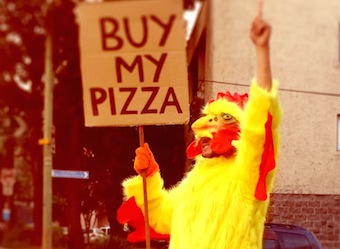 Domino's launches 'Pizza Mogul', a program that lets customers create and market their own pizza and earn money from sales.
Domino's Pizza Enterprises has launched a new platform that allows customers to create their own pizza, identity and branding, share it to their social networks, and earn a cut of every sale. There's also the option of donating a percentage to charity.
Domino's says: "Designed to appeal to entrepreneurs and social media savvy pizza lovers, Pizza Mogul empowers its users the freedom to craft their own product and message to reach their market."
Pizza Mogul is the brainchild of Domino's group CEO and managing director, Don Meij, who has a passion for innovation and entrepreneurialism. Meij started at Dominos as a delivery driver and worked his way up the corporate ladder to group CEO. Meij says the world first initiative provides a platform for "people to be creative, make money, build social capital and become part of a community."
"We are going to put Domino"s even further into the hands of our customers, and if you can dream it then this is your platform."
"Mogul provides the vehicle for Dominos to utilise social selling as a powerful revenue and viral advertising stream. We are looking for our passionate customers, fans and followers to share their creativity with their social networks," Meij said in a statement.
"It"s really as simple and easy as that. We don't want customers having to jump through hoops with registration and sign up fees – there's none of that! It's been months in the making and years in the dreaming and a lot of people have worked tirelessly to ensure Mogul is a huge success."
According to Domino's, Pizza Moguls will earn anywhere from 25 cents to $4.50 depending on the number of toppings for every individually created and sold pizza.
Meij says the pizza delivery experts receive hundreds and thousands of ideas, pizza suggestions and requests each year.
The rise of 'me-tail'
Pizza Mogul is an example of the digital marketing and personalisation trend, 'me-tail'.
"Me-Tailing isnt a trend but more of a way of doing business and is the next wave of digitalisation," says Meij.
READ: Me-tailing is one of Karl Treacher's three 'brave' marketing trend predictions for 2014 »
"With more control than ever before, customers will be able to brand their pizza, create Youtube ads, build marketing campaigns, catchy jingles, images, Vine videos, Snapchats and other exciting social selling tactics through Twitter and Facebook."
Moguls will also earn rewards through gamification techniques including weekly cash bonuses, rewards and badges.
Meij says Domino's is handing over, "the most amount of control a brand has relinquished to customers since Facebook launched. But a like or a retweet doesn't equal a sale, and its no guarantee people are buying.
"This is, in my opinion, the future of retailing."
The project was developed in conjunction with ThoughtWorks, an agile development and experience design consultancy.
Domino's says it continues to work with its digital agency, PHD, media agency, MEC and creative agency, Elevencom.
Will this change business as Domino's knows it? 
"Yes and no," is the company's short answer. "We are leading the way in digital retailing which will change the way the business is marketed. The core of our business (creating great pizzas), will still be the same. We are a pizza company, with a strong focus on great customer service and serving delicious piping hot pizza – this won't change!"
How will Domino's protect its brand? 
"There will be a dedicated team who manage and monitor content that Mogul's produce to ensure there are no derogatory, racist or discriminatory terms associated to the Mogul or Domino's brand."