Downfall of Dick Smith a long time coming – study
The downfall of electronics retail chain Dick Smith has been a long time coming, and it's vital that other major brands in the sector learn from the company's mistakes, a new study from Roy Morgan Research has found.
Dick Smith's customer satisfaction rating of 82% is lower than five other major electronic retailers in the study – Betta Electrical, JB Hi-Fi, The Good Guys, Retravision and Harvey Norman.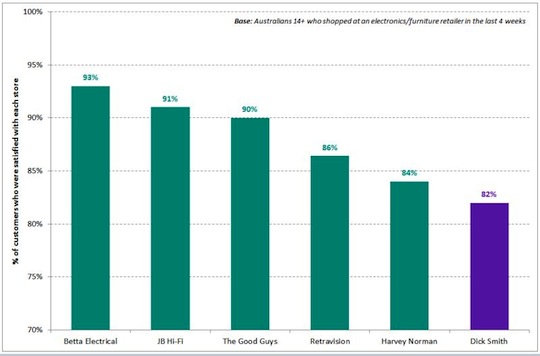 In the 12 month period up to September 2015, a total of 1,121,000 people passed through the check-outs at Dick Smith, a rapid drop from the 1,511,000 who shopped at the electronics retailer in the year leading up to September 2011.
The drop in shoppers isn't unique to Dick Smith.
The rising popularity of online shopping and dwindling consumer confidence has meant that Harvey Norman, Retravision and Betta Home Living have all seen their customer numbers fall, but unlike Dick Smith, these companies maintained a high customer satisfaction ranking rating.
Between September 2011 to September 2015, Betta Home Living increased its customer satisfaction rating from 83% to 93% whereas Dick Smith saw a dip from a peak of 85% to its current rating of 82%
Roy Morgan Research CEO Michele Levine said the study highlights the need for major players in the field to implement better business practices to improve customer satisfaction.
"While our data cannot shed any light on the company's business practices, their consequences can certainly be seen in Dick Smith's below-average customer satisfaction rating and shrinking customer base."
"Dick Smith is not the only electronics retailer to lose customers over the last few years; nor is its slipping customer satisfaction rating unique. Many businesses operating in this field could learn a lesson or two from Dick Smith's downfall, starting with the importance of always ensuring the customer is happy. Offering the right stock at the right price, providing service that's second to none: anything that boosts customer satisfaction is always going to be good for business," she said.
The research also highlights the need for businesses to have a strong online presence as more and more people turn to online.
"Obviously, online shopping has changed the way Australians shop, with electronics being one of the fastest-growing online markets. While Dick Smith does have an e-commerce platform, this attracts a negligible proportion of its total customers."