FMCG brands boosted crowdsourcing investment nearly 50% in 2014
The Fast Moving Consumer Goods (FMCG) sector increased crowdsourcing investment by 48% between 2013 and 2014, making it the most active crowdsourcing sector in 2014, according to a new report.
The report, 'The State of Crowdsourcing' by creative crowdsourcing agency eYeka, revealed the latest insights on crowdsourcing among Interbrand's 100 best global brands in 2014.
Procter & Gamble, Unilever and Nestlé were named the top three crowdsourcing users for 2013 and 2014. Earlier in the year, Unilever announced its intention to increase the use of crowdsourcing innovations tenfold by 2020 through the launch of its Unilever Foundry Ideas platform.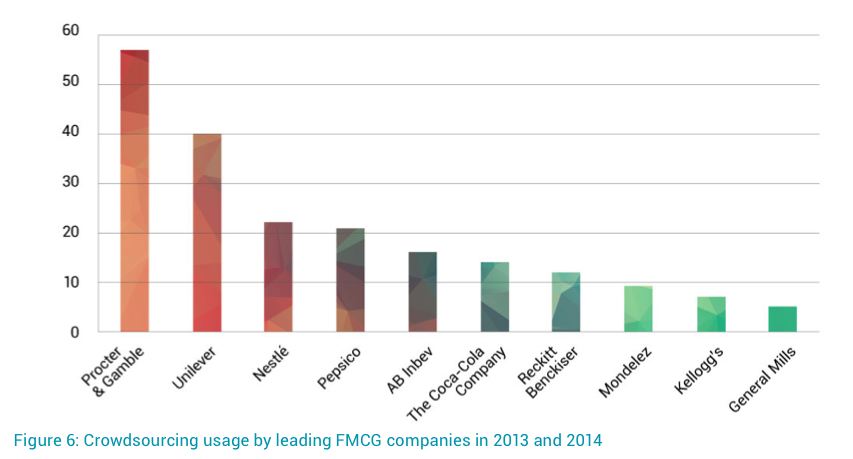 Coca-Cola, Pepsi and Danone are the most active crowdsourcing users of the past decade, after having used the most creative crowdsourcing since 2004.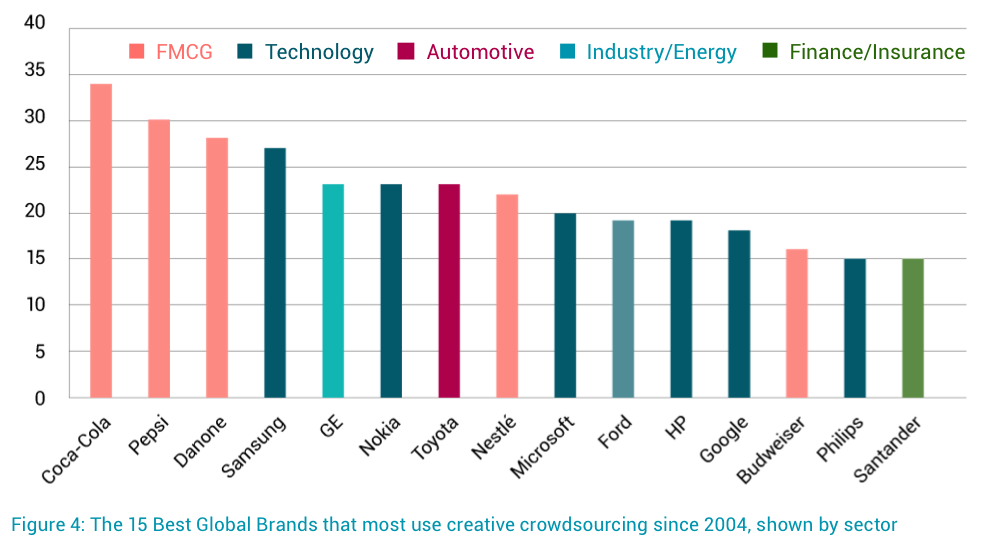 CEO of eYeka François Pétavy said:
"More brands are embracing crowdsourcing every day, and the way they do so is evolving very fast. We hope our observations will contribute to a better understanding of a fundamental shift in the way brands innovate, market and engage: with us, not for us."
The term 'crowdsourcing' first appeared in 2006 after Jeff Howe wrote an article for technology magazine Wired about companies starting to outsource internal tasks over the web. In the last decade, more companies have chosen to utilise crowdsourcing for marketing and innovation purposes.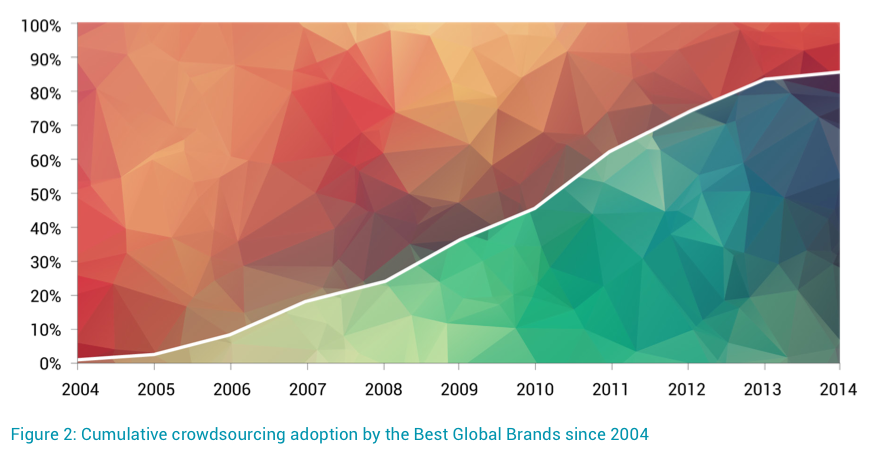 The report found 85% of the best global brands have used crowdsourcing at least once in the last ten years. Technology is no longer the dominating sector in crowdsourcing after being beaten out by the FMCG sector. But fashion and apparel remains one of the sectors with limited use of the crowdsourcing tool.
The ten leading FMCG companies are still predominantly crowdsourcing video content. But in the last year, these companies have started to steer away from crowdsourcing content and have started to crowdsource ideas more. Crowdsourcing of ideas by FMCG companies increased by 16% in 2014. The report suggests companies may be moving away from crowdsourcing as a way to produce fast and cheaper content, but instead viewing it as a way to get creativity directly from consumers at various stages of the marketing process.
In the last decade, the best global brands used video contests (45%), idea contests (23%), design contests (10%), casting of personal (6%), application contests (5%) and music contests (1%). Other contests made up the remaining 11%.
An example of a crowdsourcing contest by Coca-Cola in 2010 asked consumers to express what 'energizing refreshment' meant to them through any creative format and style they wanted. The project saw over six million online mentions from around the globe. Over 2,600 media entries were accepted from 74 different countries. Internally, Coca-Cola saw the creative materials achieve an adoption rate of 100% compared to its average 47%. The project had cost savings efficiencies of 92% against its average agency fees and production costs.