Four'n Twenty partners AFL to create huge branded zone in Melbourne stadium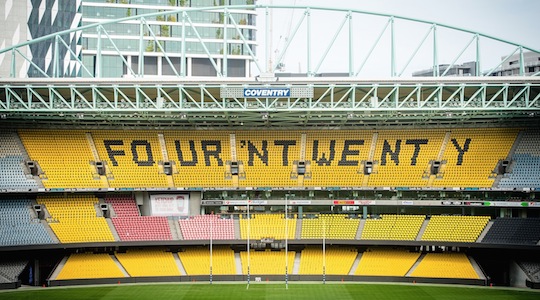 Patties Foods pie brand, Four'n Twenty is partnering with Melbourne's Etihad Stadium to become the first brand to execute a branded zone within the stands.
Hot pies are virtually the official cuisine of Aussie Rules football, and for this 2016 AFL season the area behind the goal posts at the Coventry End of Etihad Stadium in Melbourne's Docklands is transforming into a dedicated 'Pie Zone'.
7000 of the stadium's 50,000 are getting yellow and black seat wraps, creating giant Four'n Twenty branding.
Other Four'n Twenty branding will also be featured throughout Etihad Stadium in select areas.
Patties Foods managing director and CEO, Steven Chaur says, "Four'n Twenty has an incredibly long-standing association with football so establishing a partnership with Etihad Stadium to engage AFL fans was a natural fit for the brand."
To activate the branding, Four'n Twenty is also initiating a season-long AFL activation campaign, 'Pie Time Scratch 'N' Win', to reward footy fans seated within the zone. Patrons seated within the Four'n Twenty zone will receive a scratch card for the chance to instantly win one of 420 pies during 'Pie Time', which occurs between the 20 minute mark to 24 minutes and 20 seconds in the first and second quarters. However, free pies will only be on offer should a goal be scored during this period.
"Our goal was to create a destination to engage AFL fans and enhance their overall experience during the game. The Four'n Twenty zone also builds on the well-established Australian tradition of enjoying a hearty meat pie at the footy," Chaur says.
In the case that neither team scores during 'Pie Time' or should pies be left unclaimed, Four'n Twenty will donate the pies to The Father Bob Maguire Foundation.