Future bright for Aussie newspaper apps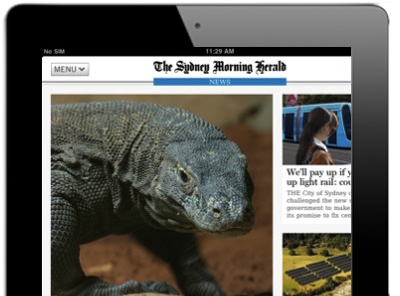 One in five app users, or 4% of the Australian population, have downloaded a newspaper or magazine app to their mobile device according to data released by Roy Morgan Research.
The findings from the research agency's 'Single Source Data' show that out of recently used apps (accessed within the past four weeks), Fairfax mastheads the Sydney Morning Herald and The Age have the largest audience, with 121,000 total and 89,000 frequent users respectively.
The next most popular is The Australian, which just edged out the New York Times for third place, with an audience of 54,000. The Economist ranked as the fifth most used in the past four weeks with 40,000 users.
Australian titles that round out the top three are currently free to access, while the New York Times requires a subscription and The Economist operates on a 'freemium' model (free access to all but premium content).
The Sydney Morning Herald and The Age apps were released in April last year with the promise of being free until December (after that they will cost $8.99 a month) and The Australian was also released on a sponsored basis to allow readers to trial the apps for a period before the pay wall goes up.  Fairfax's apps are available on both mobile phone and iPad, while The Australian is only on iPad.
Head of innovation at personal media specialists Tigerspike, Oliver Palmer, says news organisations are recognising the need to develop apps in order to deliver their content where the audience is.
"When you start to talk about apps, you're opening up a much broader range of competitors for Australian publications," Palmer says.
"The New York Times and The Economist have been successful in enticing Australians to pay for their apps due to the strength of their reputation and the quality of the journalism."
Palmer says the Herald's and The Age's apps have been successful because they're complementary to the newspaper and offer a much richer experience, as well as the fact they've been advertised extensively in traditional media.
He is optimistic of the future for paid news or magazine apps: "Apps are a logical way to pay for content through mobile or tablet applications which makes it an easy way for people to understand monetising it."
Industry director of media research at Roy Morgan Research, George Pesutto, also thinks the future for news apps is bright with access to news via mobile device already a popular function and the number of apps set to increase.
"As smartphone and tablet penetration in Australia continues to increase, we would expect to see a corresponding growth in the number of users of newspaper and magazine apps," Pesutto says.
"Since most newspaper apps are still free it would be too early to determine how successful newspaper apps will be once they all allocate a charge for their download.
"However, given the modest take up already of some paid for newspaper and magazine apps we would expect some interest in Australian based newspaper apps at a cost."
Users of the top apps, the research found, are more likely to also be heavy hardcopy newspaper and magazine readers and heavy internet users.
The Australian's app was sponsored by Telstra and launched free for three months, but pay walls are yet to go up.