Google unveil real-time ads to compete with Twitter
Google has unveiled a new ad format, called 'real-time ads', in an effort to encourage brands to trigger promos around major events like the upcoming Super Bowl.
The service is similar to the way marketers use Twitter to tap in on a conversation as they're happening.
The new platform will allow advertisers to upload pre-created content – like a photo – before an event, which can be updated immediately to reflect social media trends and sentiment.
This format differs from the Twitter model, where brands often create and post content on the go.
Google managing director of agency sales Tara Walpert, said the platform was an exciting way for marketers to engage in micro-moments that resonate with consumers.
"The goal for marketers, and being able to react real-time in a way that really resonates with folks around big cultural events, and the micro-moments that go with them, is common across many platforms," she said.
"What's unique about real-time ads is the ability to do that in video and display with the reach and scale and power of the platform, which as you find out is relatively incomparable," said Walpert.
Those who utilise the technology will be hoping to generate the same kind of buzz US cookie giant Oreo, managed to create during a blackout at the 2013 Super Bowl.
The company posted a picture featuring an Oreo, along with the caption "Power out? No problem. You can still dunk in the dark" to their Twitter account, in a move that was not only a major talking point, but generated enormous reach, receiving of 15,000 re-tweets and over 6000 likes.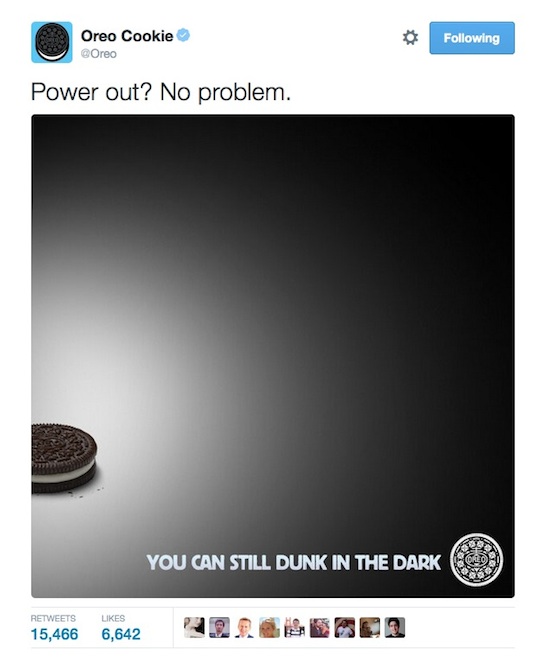 The new tool will be featured on YouTube and Google's Display Network, which houses thousands of publishers' sites and apps.
The new ad format is currently only available to a select group of brands, but will be available more broadly later in the year.