Happy Mardi Gras! Sponsorship, workplace policies and the pink dollar
Tomorrow is the 36th Sydney Gay and Lesbian Mardi Gras parade and this year's 'Kaleidoscope' theme encourages everyone to 'let their colours burst'.
The LGBTIQ community (Lesbian, Gay, Bisexual, Transgender, Intersex, Queer), like a kaleidoscope, has many dimensions and this year's Mardi Gras season is all about celebrating that diversity.
ANZ has sponsored Mardi Gras since 2007, this year increasing its commitment to that of Principle Sponsor. This year, its 'gAyTMs' have been a fun way to bring the sponsorship to life, with images of these fabulous ATMs spreading through social media like wildfire.
For its part, Commonwealth Bank is Principle Partner of this year's Bingham Cup, the international rugby union tournament for LGBTI participants, held in Sydney for the first time this August.
Our recent national LGBT research, Pink Monitor, shows that 87% of LGBT consumers are more likely to support companies that support the LGBT community. The big banks have realised the power of the pink dollar, and even St George bank has come to the party with their own gAyTMs. You just can't keep a good idea down!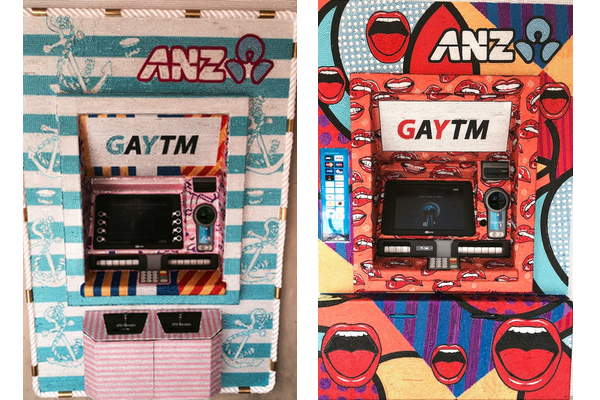 Major Partners of this year's Gay and Lesbian Mardi Gras include Fitness First, Durex, Air Asia, Google, Gaydar, Finlandia Vodka and Atlantis Cruises.
Sponsoring events like Sydney Gay and Lesbian Mardi Gras is a great way to demonstrate commitment to the LGBT community.
In Pink Monitor, we asked: "How do you know if a brand supports the LGBT community?" 57% say through presence at LGBT events, 57% say through advertising, and 53% through media and news reporting.
Corporations that develop an ongoing conversation through regular advertising, sponsorship of LGBT events and adoption of workplace policies to support diversity are recognised by the community as real champions.
Another great way to support the LGBT community is to support a cause that directly relates to us. We asked the four most important issues facing LGBT people today. We were told:
Ending LGBT bullying and suicide,
marriage equality in Australia,
LGBT rights around the world, and
ending HIV.
Brands who stand up for us on any of these issues will develop great credibility.
Many LGBTs would have liked Coca-Cola to withdraw its support for the Sochi Winter Olympics in response to the Russian treatment of the gay and lesbian community. Its great to see Coke adding a rainbow diversity image to its Kings Cross billboard.
The survey showed that Virgin Mobile is considered the most LGBT friendly telco in Australia, ANZ the number one bank, Fitness First the leading health club and Subaru was top in the auto category. While these brands came out on top, in some categories, more than 50% delivered a results of 'none of the above', meaning no brand in particular struck the audience as being LGBT-friendly. There is a big opportunity for brands to be category leaders and develop millions of brand loyal customers.
77% of LGBT respondents believe advertisers in Australia are behind the times when it comes to marketing towards LGBT people.
Its great to have big brands supporting the kaleidoscope and diversity of society, their customer base and their workforce. This sends a clear message that diversity is important, acknowledged and appreciated.
As one respondent put it: "I'm gay and I spend. If you go out of your way to support me, then I will go out of my way to bring my business to you."