Kellogg's turns to YouTube creators to spearhead masterbrand campaign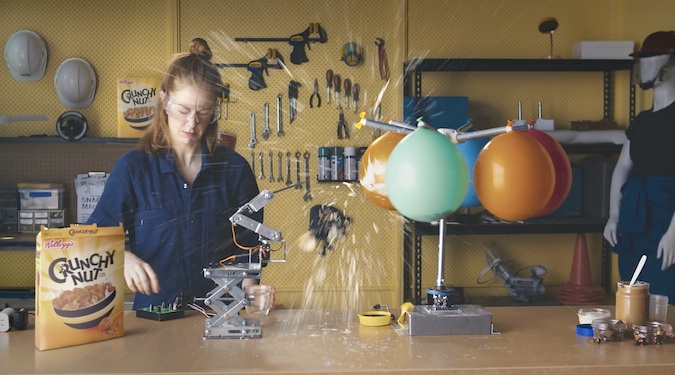 Kellogg's is building on its 'Amazing Creations' campaign, with new videos featuring YouTube creator Simone Giertz and her useless machines. 
In 2016 Kellogg's launched its 'Amazing Creations' masterbrand campaign featuring Youtube content creator Zach King. Building on the campaign in collaboration with J Walter Thompson Sydney, Kellogg's two new TVCs featuring Simone Giertz will hit free-to-air and paid television this week.
San Francisco creator Giertz has built up over 900,000 subscribers in only three years on Youtube and is known for building quirky and 'useless' machines. The two TVCs see her unconventional machines put to work flinging, punching and launching Kellogg's cereals to create new recipes such as Froot Loops trail mix.
According to executive creative director for J Walter Thompson ANZ Simon Langley,  Giertz' "charming personality and quirky sense of humour, combined with her highly entertaining snack machines are the perfect vehicle to help reframe cereal within the snacking space."
Kellogg's says this campaign aims to expand their customers views on cereal, "by sharing fun and delicious snacking ideas with our foods we're engaging with people who might not have considered using cereal in this way," says Tamara Howe, marketing director for Kellogg's ANZ .
Kellogg's says its original campaign with Zach king in 2016 saw significant sales uplift for brands featured in above-the- line media. It will look to further the campaign's success with its new talent, using the same zany attitude and playful humour. Read our coverage of the campaign launch here »
Youtube creators seem to be entering the commercial marketing space more, as brands realise the potential value in online influencers. More brands such as Oreo and Nissan are commissioning YouTube creators to post sponsored content on their own channels, as well as including them in conventional advertising.
The Amazing Creations TVCs will air this week on Australian screens, and will be supported online with social video content and recipes.