LinkedIn introduces Lead Gen Forms to streamline mobile form submissions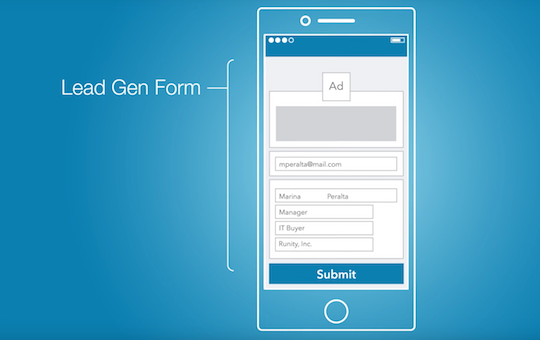 LinkedIn Lead Gen Forms will automatically populate lead-gen forms with users' LinkedIn profile information
The new feature aims to streamline mobile form submissions by automatically populating an in-app form with users' LinkedIn profile information.
The decision was made to address consumers' reluctance to fill in forms on mobile websites to access pieces of content.
It therefore aims to remove the main barrier to mobile lead generation – making people fill in details by typing information on their phones.
"For many marketers, collecting quality leads is hard," says Divye Khilnani, product management at LinkedIn in a company blog. "That's because most people don't want to complete a form on a brand's mobile website to access a piece of content. Just think – when was the last time you got excited to fill out a form on your phone?" he asks.
When a member clicks on a brand's LinkedIn ad, they'll see a form which has been pre-filled with their LinkedIn profile information, so they can simply click submit to create the lead.
Users are then shown a custom confirmation page linking to the piece of content or other destination.
Leads can then be downloaded or passed across to a CRM platform.
Another feature enables the tracking and reporting of campaigns, including the number of leads, cost-per-lead and lead completion rate.
"Given that 80% of member engagement with sponsored content happens on smartphones, we are confident that a mobile-first approach will offer advertisers the best results," says Khilnani.
Lead Gen Forms is being rolled out on LinkedIn's mobile app, but Khilnani says it will expand its capability to desktop campaigns in the coming months.
–
Further reading
–