Made with love
Charlie's Cookies' Jacky Magid and Marianna Malkin talk to Ben Ice about the brand's work with Qantas and support of Bangarra Dance Theatre, and its interesting position in an ever-changing market. And, of course, love and cookies.
This article first appeared in The Love Issue, our June/July edition of Marketing magazine.

When Jacky Magid joined her husband Ken Mahlab's company three years after he bought it out of administration, "It was a very unsexy brand with unsexy products," she says. It did, however, have delicious, high quality products; it was in need of "reinvigoration".
The first big break was a private label job for Australian Convenience Foods, which began a domino effect. Showing they could handle large contract jobs opened up opportunities for other large contracts, but without a doubt the biggest contract has been Qantas.
Charlie's Cookies' 'innovator and sales director' Jacky Magid and 'passionate marketing and communications manager' Marianna Malkin talk us through the brand's work with Qantas and support of Bangarra Dance Theatre, and their interesting position in an ever-changing market. And, of course, love and cookies.
Qantas
The Qantas contract has enabled Charlie's to pursue a goal of supporting the Bangarra Dance Theatre, a travelling theatre that supports Aboriginal and Torres Strait Islander communities via workshops and youth programs Australia wide. It has also provided rich brand exposure and a high volume of orders resulting in solid revenue.
"It took three years of pitching every three to six months to get Qantas," says Magid.
The opportunity of the contract with Qantas has meant guaranteed business and exposure to a highly captive audience – plane passengers. Where a large scale supermarket contract may mean exposure on the shelf, there's no guarantee that consumers will pick it up, but with Qantas, "they know how many flights they'll do, they know how many passengers they'll have, they know that they'll go through 250,000 units in six months' time".
Competition for such a lucrative partnership is understandably intense, so for Charlie's the idea to use the in-flight packages to promote a community organisation came not just out of a desire to help a cause, but also as an idea to reinforce its position over competitors, to offer Qantas a chance to improve its image and help a cause.
"Everybody can make a box of cookies and dip and cheese… so we thought, what can we do that's one, different, and two, going to make the airline look good, and also give organisations like Bangarra the opportunity to be seen," says Magid.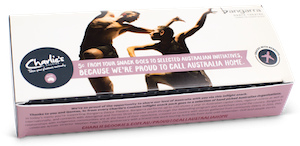 Bangarra
Bangarra, one of Australia's leading performing arts and theatre companies, is an Aboriginal and Torres Strait Islander dance company. It holds strong ties with the Indigenous community and its repertoire and technique are built on generations-old customs and dance culture. It also runs touring education programs, workshops and projects for the next generation on annual regional Australian tours.
Qantas, says Magid, is trying to make a difference in the Indigenous community via funding and sponsorship, and even through its food menu, asking suppliers to build in an Indigenous theme. "I don't know how the other suppliers are translating it, but we translated it into 'we'll do it in the packaging, and we'll tell a story, and we'll choose an Indigenous organisation to work with'," says Magid.
Qantas chose Bangarra out of three causes offered up by Charlie's. The Bangarra deal was the perfect fit for Charlie's for three reasons, the third, says Magid, is because her brother is Bangarra's CEO.
First and foremost, though, is Qantas' desire to support the Indigenous community and get behind community organisations.
Second was the fact that Qantas already was a corporate sponsor for Bangarra.
Aside from the awareness offered to Bangarra by appearing on the boxes and corporate sponsorship from Qantas, Bangarra also receives five cents from Charlie's for each in-flight snack box.
The box in question features a Bangarra Dance Theatre lid, and a Charlie's label saying '5c from your snack goes to selected Australian initiatives because we're proud to call Australia home'.
It also features biscuits, cheese and dip from other suppliers Del-Re International, Tucker's Natural, Beerenberg and Colorpak Ltd, but is completely curated by Charlie's and, as part of the contract with Qantas, must contain at least one Charlie's product.
"We said to the other suppliers, 'here's an opportunity to be part of this cause'," says Malkin of the collaborative approach they've taken with them.
Brands have to take care, says Magid, not to exploit the idea of cause-related marketing. Transparency was key. "We went to Qantas with open book costing, so they could see that we were genuinely giving away this money, and there had been collaboration between these organisations."
The fact that all three parties are benefiting from the arrangement is proof of its authenticity and worth. "Bangarra is as excited about it as we are, Qantas is as excited about it as we are," Magid adds.
Business with Qantas has enabled the brand to grow in reach, production and brand awareness, including a move from solely B2B offerings to more work in the B2C marketplace. Malkin oversees a lot of this change and planning.
"It certainly helps to have somebody who's got a lot of marketing experience, it was to help build the consumer side of the business," says Magid.
The changes Charlie's faces as it shifts also take shape in a time where the gourmet food supply market is undergoing great change – where once there was the choice between gourmet and mainstream offerings, the lines are becoming blurred, exemplified by the fact mainstream grocery retailers now stock gourmet ranges.
"Just when I think I have my head around it, the gourmet retail space is changing," says Malkin.
"We're certainly doing our own research to find out where it's headed, because it's heading somewhere."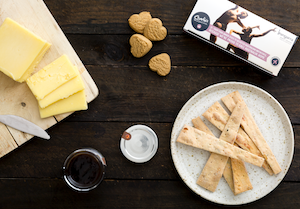 Evolution of Australia's gourmet food market
Another growing trend in cookies, and indeed in all groceries, is driven by consumers' desires to support, promote and eat artisanal and grass roots produce. Stockists and cafe owners' insistence on catering to this trend has left Charlie's with something of an identity crisis.
So, while Charlie's – which employs about 30 people at its plant and office in Melbourne's outer suburb of East Bentleigh – is small compared to the mechanised manufacturers that supply Coles and Woolworths, it is seen, by some, as 'major corporate players' compared to small 'hipster' suppliers.
"We've fought so hard to grow, and now we're saying 'hang on, are we still boutique enough?'"
While certainly producing more sweets and revenue than a bearded guy in Brunswick making cookies in his bathtub and suffering for his art, it is still authenticity that enables Charlie's to maintain its boutique status. "Authenticity's got to be the key. People want to believe in the product. We are who we are, some of it's more automated than others. We still hand pipe things, we still hand fork things."
This situation – bigger than the little guys, smaller than the big guys – sees Charlie's at a true "tipping point", says Malkin.
"We're at a crossroads, all the artisan brands are trying to get to our size, to become profitable. Then, all the larger companies, that have the volume now, have lost, or are losing that perception in the marketplace, about being craft, artisanal, and boutique," she says.
While trying to make sense of their position in the tipping point, and planning ahead, their size, Magid and Malkin are thankful for the agility offers them in a time when the industry is in a state of uncertainty and flux.
So, while perhaps leaving behind the small scale beginnings that many cafe owners seek in today's powerful trend of artisanal food, Charlie's large scale has enabled it to cater to the likes of Qantas, while, not being too large to have to mechanise and commit to supply schedule restrictions. "Because we're smaller, we are more agile, we shift and change," says Malkin, "we can move a bit quicker."
If one trend is dying, or if one product is not performing, the company "can jump out and move", reposition itself, discontinue products that aren't performing, and introduce and try out new lines.
Aside from the Qantas contract, its new retail-marketing angle is seeing success in two areas. The first is gourmet food retailers, says Magid, where it's able to run product trials, and say, "OK, this type of product isn't working, how about this product, or if this box isn't working, how about we try this bag?"
Larger scale fruit and vegetable markets also provide a fine avenue, without having to go as far as major supermarkets. "They are more independent; we don't have to wait for Wool- worths to sort itself out in the very top level to work out if our cookies are going to sell or not. Harris Farm is a great example of that. They're a fantastic operation in Sydney; they must be up to 40 stores by now. We have really great presence in their stores," says Magid.
Flexibility gained by a large range of products allows Charlie's to cater to different markets. "In our food service business we have to have BRC (British Retail Consortium) accreditation, and all the volume capabilities, but, in our café cookie range, we have to be as artisanal as we can, to compete with our competitors in that space," says Malkin.
Part of this agility also means the ability to constantly reinvent, reassess and make changes and new products, to best suit the market's demands.
"You have to have that balance in your business between innovation and exploitation of what you do really well. We do make cookies at a really large scale. At the same time, we're not a company that goes, 'Cool, we've got a great market, we sell lots of cookies, we'll just go to sleep now and keep selling lots of cookies'," says Magid.
"We keep looking at trends, we keep looking at what we can do better, what we can improve, and we launch more ranges than we delete, that's for sure."
Authenticity, then, and heart are what sets Charlie's aside from major competitors, and it's not just evident in its product. In recent months, Magid and Malkin have both been moved by the showing of support from colleagues when one staffer had a baby, as well as another highlight that saw a marriage proposal take place on the bakery warehouse floor.
For Malkin, it's where the value of the business lies. "What I've seen most is the value of the business – even despite the commercialisation of the product – is family values. That's been a great selling point, as well."
"We left the corporate world because we didn't want to operate in that rigid sense anymore. We wanted to create something that was ours. There is an enormous amount of heart in this business," says Magid.
Theirs is a diverse, supportive staff community, "it's real here, we live and breathe it," she concludes.
* * * * *
To purchase a copy of The Love Issue, or a subscription to Marketing, visit the shop
* * * * *