Media Monday: 2014 overall TV ratings, 1.1 million viewers to AFC Asian Cup, Michelle Bridges teams up with Spotify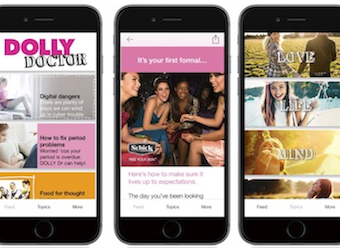 In Australian media news this week, seven tops the 2014 TV rankings, the ABC attracts 1.1 million viewers to the first AFC World Cup soccer game, Michelle Bridges 12WBT launches custom playlists on Spotify, Crocmedia opens a WA office,  Dolly magazine launches a Dolly doctor app, and WhatsApp reaches 700 million monthly users. 
Seven wins the 2014 ratings battle
The Seven Network led the primetime free-to-air TV rankings in 2014, taking a 30.1% share of the five-city metro market, according to OzTam data.
The Nine Network closely followed with 28.9% market share, followed by Network 10 (18.1%), ABC (17.7%) and SBS (5.3%).
Seven's main channel took the highest market share for an individual channel at 21.7%, followed by Nine's main channel at 20.9%.
The ABC's main channel captured more audience than the commercial Channel Ten, with 12.8% market share (Ten had 12.1%).
The AFL grand final (Seven) and winner announcement episodes of My Kitchen Rules (Seven) and The Block Glasshouse (Nine) topped the list of most-watched programs across the five-city metro market for the year, among all viewers between 2pm and 2am.
AFC Asian Cup attracts 1.1 million people to ABC
1.1 million Australians tuned into the ABC's coverage of the AFC Asian Cup opening match between Australia and Kuwait.
The network broadcast the soccer match at 10pm on ABC TV and ABC iView, as well as live on ABC radio supported by a live blog on ABC Online.
The match itself attracted a metro and regional average audience of 517,000, while post-match coverage has a metro and regional average audience of 532,000.
Last night, ABC's main channel ranked at number one in Melbourne and third overall compared with competing free-to-air television channels.
Of the 784,000 reached in the metro markets, 47% was aged under 50 and 23% were 'new viewers' to the ABC.
Michelle Bridges and Spotify design custom running playlists
Michelle Bridges' 12WBT program has teamed up with Spotify to launch an 'intelligent' running playlist generator for subscribers to the ad-free service.
The two-month campaign centres around a Spotify widget, which pulls together a custom playlist after asking the user a series of questions, including location, favourite running song and distance and intensity of the run.
It runs promotional spots for 12WBT running programs between songs.
12WBT marketing director Kieron Wogan says: "This playlist and running route generator was the perfect way to complement 12WBT's broad range of running programs. It will not only be a great companion for those already in our programs, but it will also introduce our running offering to a new audience before our 2 February round kicks off."
Crocmedia launches in WA
Crocmedia has launched an office in WA in response to significant business growth, appointing Mandy Coville to Western Australia commercial manager.
Coville will focus on leading and growing the company's WA client portfolio across its TV and radio assets, including Footy WA.
Crocmedia currently produces into Western Australia: Footy WA, Sportsday, The Locker Room, Off the Bench radio and TV, and an AFL radio call through regional Western Australia.
New Dolly Doctor mobile app
Dolly magazine has partnered with Schick to launch a new Dolly Doctor mobile app for teenage girls.
"The new Dolly Doctor mobile app provides teenage girls with a one-stop-shop for reliable, trusted advice covering everything from sex, relationships, health, and friendships; all backed by Dolly's accredited health experts," the magazine says.
Sales director Tony Kendall says:
"Mobile remains one of the fastest growing media platforms and a key part of any marketing strategy that is trying to connect a brand with the passions of today's teenagers. The Dolly Doctor app provides advertisers with yet another channel to target this elusive demographic, backed by Bauer Media's trusted and curated content."
WhatsApp reaches 700 million monthly users
Jan Koum, CEO and co-founder of mobile instant messaging service WhatsApp, has announced that the social platform has reached 700 million users each month, with 30 billion messages being sent every day.
Although WhatsApp may not be huge here in Australia just yet, these figures tell us it will be a social network to watch.