Media Monday: Adam Goodes; Cooking chaos; CollegeHumour; Donna Hay; APEX opens for trading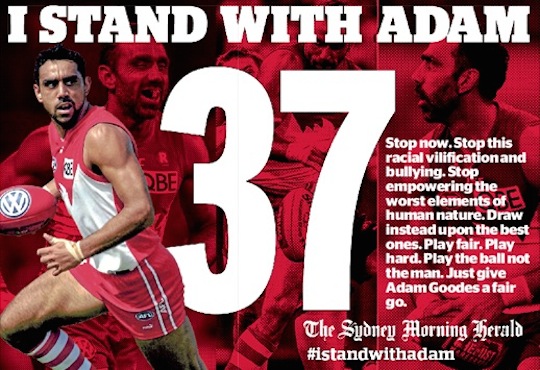 In Australian media news this week: Fairfax papers wrapped in Adam Goodes poster, cooking shows head to court of copycat claims, CollegeHumor launches Australian arm, Donna Hay gets another magazine, a new premium programmatic exchange launches, Facebook earnings and usage highlights, the MPA says magazines work better than you think, and GE's branded content partnership with the Guardian.
Fairfax papers stand with Adam
The Age and the Sydney Morning Herald wrapped their Saturday editions (1 August) with a poster (pictured) calling for readers to support Adam Goodes and join the campaign #istandwithadam.
Readers are encouraged to exhibit the poster, take it to football games this weekend, and post photos of themselves with it using the hashtag #istandwithadam.
Darren Goodsir, editor in chief of the Sydney Morning Herald, said the controversy over the booing of the Sydney Swans star and former Australian of the Year had divided the nation. "The Herald calls on readers to take a stand and make it stop."
Editor in chief of The Age, Andrew Holden, says, "We have taken this unusual step because we believe that racism is inherent in the abuse that Goodes has suffered and we all have a duty to help end this travesty."
Because 789
Channel Seven is taking rival Nine to court, claiming that cooking show The Hot Plate is a copy of My Kitchen Rules. 
The Herald Sun is reporting that Seven has submitted Federal Court papers asking for The Hot Plate to be taken off air.
If you haven't seen Hot Plate, it's like MKR but with a lower budget and even more unlikeable contestants. The main difference is they're all existing restaurant owners, whereas on MKR contestants must be amateurs. (Although that difference should in no way be taken to mean that the pro group is better at cooking, taking criticism or general self-awareness.)
Seven's claiming that Hot Plate has blatantly copied several things, listed below. The comments after the colons below are Marketing's take on each point, very much intended for entertainment purposes only because we've seen almost several minutes of each show, this story feels like a joke and we're certainly not Federal Court judges:
"Identical casting": the judges in My Kitchen Rules are both chefs, whereas in the Hot Plate one's a chef and one's a food critic, although Seven could be referring to the fact one is Australian and one has an accent. Or it could mean that the casting of contestants is based on the same unpleasant stereotyping.
"Identical costuming": the wardrobes of both shows comprise suits and chef whites.
"Identical sets": both shows feature people sitting around a dinner table.
"Identical music": we can't remember and don't care enough to check this.
"Identical promotion": both shows use copious cross-promotions with other shows on their networks, and the same highly-edited drama-filled previews as every other "reality" show ever on TV.
"Judging processes": this is probably where the actual argument should be and where Nine might be in trouble, although the Hot Plate season's only just started so who knows what the overall structure is.
CollegeHumor branches outside US for first time
Turner International is launching a local version and sales team for its CollegeHumor website, a low-brow humour destination for male 18-34s.
CollegeHumor Australia will offer localised editorial content developed from an Australian perspective, in addition to existing CollegeHumor content created by the US-based editorial team, so expect to see some Neighbours in the next version of '18 Mesmerizing GIFs Made From Your Favorite Movies & TV Shows'.
This is the first time CollegeHumor content will be created locally for a market outside of the United States, and Australian film critic, entertainment journalist, producer and television personality Giles Hardie has been appointed as managing editor.
Authentic Entertainment has been appointed to manage the commercial operation in Australia.
Australian Premium Exchange (APEX) launches
Australia's first premium, brand-safe, mobile programmatic exchange, is now live and operational.
A joint venture between Fairfax Media and Mi9, APEX offers premium mobile inventory that comprises mobile properties owned and operated by Fairfax and Mi9, in addition to third-party publishers such as Daily Mail Australia. Other publishers will be invited to join in the future.
APEX offers media buyers premium mobile inventory and the efficiency of real-time bidding (RTB) from more than 120 well known, locally created mobile sites and apps.
The mobile advertising inventory delivered by APEX is powered by AppNexus.
New Donna Hay mag
NewsLifeMedia is launching a new quarterly magazine, Donna Hay Fresh + Light, aimed at the hard-to-reach premium luxe-health market
The first issue of the new quarterly will be on sale in October, and it will be available in both print and an enhanced, interactive digital edition.
The new-look magazine has its own editorial team and a unique editorial format: a mix of extended features focusing on themed recipes and on-trend ingredients, as well as smaller bite-sized features with quick recipes, how-tos and tips.
The existing bimonthly Donna Hay Magazine has a total masthead audit of 93,684 sales per month.
Facebook Q2 2015 Earnings Highlights
Facebook is reporting Q2 2015 revenue totalling $4.04 billion, including revenue from advertising of $3.83 billion.
Mobile advertising revenue represented 76% of advertising revenue for the first quarter of 2015, totalling $2.9 billion, a 74% year-on-year increase.
Usage highlights:
Daily active users (DAUs) were 968 million on average for June 2015, an increase of 17% year-over-year. Now 65% of monthly active users are also daily active users.
Mobile DAUs were 844 million on average for June 2015, an increase of 29% year-over-year.
Monthly active users (MAUs) were 1.49 billion as of June 30, 2015, an increase of 13% year-over-year.
Mobile MAUs were 1.31 billion as of June 30, 2015, an increase of 23% year- over-year.
Across Facebook, Messenger and Instagram, people are now spending more than 46 minutes per day on average.
968 million people were active on Facebook on a daily basis (up 17% year-on-year).
MPA says magazine ROI has been underestimated in the past
A study conducted by Millward Brown on behalf of the Magazine Publishers of Australia's (MPA) has concluded that many econometric models systematically underestimated the impact of magazine advertising on sales. This does not reflect the readership patterns and causes underestimation of magazine's impact on sales.
Using the MPA's new analysis tool called MAPP (Magazine Audience Performance Predictor), which provides estimated weekly performance data for current issues of magazines, Millward Brown estimated that magazines delivered 7% higher ROI compared to what traditional inputs delivered.
Millward Brown's director of marketing science, Abhishek Shukla, says that having industry-accepted magazine input data creates a level playing field for measuring how each channel in the media mix stacks up.
"While traditionally we've used combinations of inputs to try to better represent magazine's readership and its impact on sales, we have never before had industry accepted, historical weekly data reflecting readership accumulation patterns for the delivery of magazine campaign audiences," Shukla says.
Guardian Labs Australia launches content with GE
Guardian Labs Australia, the branded content arm of Guardian News & Media's local website, has launched a new, interactive web documentary titled 'Innovation Never Sleeps' as part of a new brand partnership agreement with GE.
The interactive content charts 24 hours in the lives of five unsung Australian technology innovators, profiling the Australian 'makers' behind major advances in the fields of healthcare, aviation, astronautics, geophysics and mining.
The interactive storytelling is sponsored by GE (labelled 'brought to you by GE'), including an amalgam of written articles, videos, data visualisations and still images.
'Innovation Never Sleeps' was booked through MEC Sydney to run online for three months, and is the second series of its kind from Guardian Australia and GE.
Since its launch in 2013, Guardian Australia has worked with brands such as NRMA Insurance, and won a Walkley Award for multimedia storytelling for (not-sponsored) Firestorm, an interactive piece about the January 2013 bushfire in Dunalley, Tasmania.