Media Monday: FreeviewPlus arrives, petrol pump ads automated, NewsLifeMedia takes on contactless tech
In Australian media news this week: catch-up digital television service FreeviewPlus is launched; Val Morgan automates petrol pump screen advertising; NewsLifeMedia introduces contactless technology with Tapit; News Corp rolls out its celebrity gossip brand 'Confidential' nationally; Fox Sports switches two channels to high definition; and, the royal hoax inquest begins in Britain.
FreeviewPlus now available
Digital free-to-air television has combined with online catch-up services with the launch of FreeviewPlus.
FreeviewPlus is a new digital television platform that incorporates digital TV with a broadband-delivered free-to-air electronic program guide and access to catch-up services.
Freeview has announced Sony and LG as the first manufacturers of FreeviewPlus receivers. Initially users will access the new service through panel TVs and PVRs, with set-top boxes likely to be introduced in the future.
The largest TV campaign since Freeview's launch six years ago will accompany the launch, as well as a new FreeviewPlus website with information about the service.
Petrol pump advertising can now be bought programatically
Val Morgan Outdoor has opened its PumpTV network of screens at petrol pumps is now open to automated trading based on real-time audience viewing metrics. The move follows a partnership with Starcom MediaVest and Videology.
Optus, GIO and Subaru are the first clients to get on board with this new offering.
Starcom MediaVest Group executive director Jason Tonelli described the development as "game changing".
"This approach enables our clients to be much more relevant and personalised in the experience they deliver to the customer, extremely close to the point of sale, in a programmatic way – and doing this in a scalable fashion."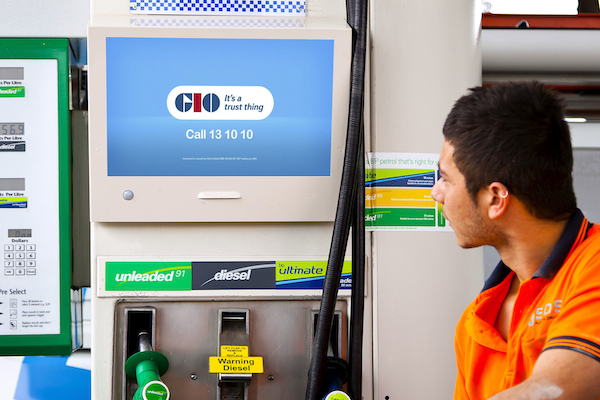 NewsLifeMedia partners with contactless technology Tapit
NewsLifeMedia has announced a partnership with Tapit, which will offer contactless technologies to its mobile apps and content.
Advertisers will now have the ability to push relevant content to consumers using technologies such as near-field communications (NFC) and beacons.
NewsLifeMedia chief executive officer Nicole Sheffield explained that these technologies could target customers at critical decision-making points including at point of sale.
"Harnessing the power of Tapit will now bring an opportunity for consumers to conveniently experience NewsLifeMedia produced content whether they are in-store, at an event or walking past an outdoor poster by simply using their smartphone."
The company will soon offer contactless solutions to select clients as part of special media packages.
'Confidential' celebrity gossip brand goes national
News Corp Australia has extended its celebrity news and gossip section, Confidential, to feature in newspapers and digital offerings around the country.
Confidential now has now localised versions for The Daily Telegraph, Herald Sun, The Courier-Mail, The Advertiser and PerthNow.
News Corp Australia group director – sales Fiorella Di Santo said the brand being national and multi-platform would offer more value to advertisers.
"Sydney Confidential has proved a successful formula with the right mix of celebrity, lifestyle, fashion and music. The brand's foray, not only across the country, but digitally too means that we are able to 'own' the entertainment conversation throughout the day through interactive and highly visual content."
Fox Sports switches two channels to high definition
Fox Sports has announced two new high definition channels in preparation for 2015 during which the brand aims to show a record-breaking number of hours of live sports content.
From Monday, 3 November, the Fuel TV and Speed channels will become Fox Sports 4 and Fox Sports 5.
After the change, Fox Sports will have seven high definition channels to show 10,500 hours of live sport content during 2015.
Major events will include the AFC Asian Cup, the ICC Cricket World Cup, the IRB Rugby World Cup and every championship race of the V8 Supercars.
The premium sport will all be listed in the Foxtel guide, recordable in high definition and feature enhancements using the platform's 'Red button'.
Royal hoax inquest held in Britain this week
Westminster Council has confirmed that it will host the inquest into the death of British nurse Jacintha Saldanha this week.
Saldanha died in December 2012 after answering a prank phone call by Australian radio hosts Mel Greig and Michael Christian pretending to be the Queen and Prince Philip, during the Duchess of Cambridge's pregnancy.