Media Monday: Hamish & Andy back on drive radio today; Ashes sponsors announced; Aussie virality trends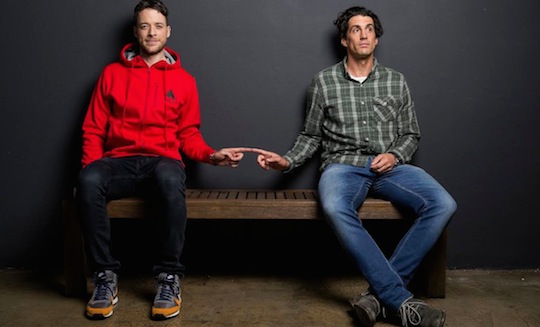 In Australian media and publishing news this week: comedy duo Hamish and Andy return to daily drive radio, Nine announces sponsors for the 2015 Ashes series broadcast, Unruly shares some interesting data on Aussie sharing habits, and a local BBC Worldwide exec appointment.
Hamish and Andy return to drive radio today
Comedy duo Hamish and Andy are back on daily radio as of today, returning to the drive slot on Southern Cross Austereo's Today's Hit Network (2Day in Sydney, Fox in Melbourne, Hit elsewhere).
SCA's promotional campaign for the launch centres around Hamish and Andy officially returning on 13 July "but secretly a week earlier", meaning today. We're still trying to figure out what it's all about. Will have to tune in at 4pm, I guess!
Nine Network announces 2015 Ashes sponsors
Eight sponsors are partnering with the Nine Network for its coverage of the 2015 Ashes cricket series. Returning sponsors Bet365, Swisse and Harvey Norman are joined by new sponsors NAB, Mercedes-Benz, Hungry Jack's, Commander and Youi Insurance.
The series starts 8 July, and will be broadcast live on GEM.
Australians are the fastest sharers of online branded video content in the world
Research conducted by video ad tech company Unruly had found a number of interesting viral video trends in Australia, including:
Australians share branded video content faster than any other country worldwide. On average a branded video campaign in Australia attracts 21% of its total shares in the first 24 hours – much higher than the global average of 13%. South Korea is second, attracting on average 20% of its total shares on day one.
Australia has seen a huge explosion in social video over the last 12 months, with the number of videos launched by brands nearly doubling (+92%). The average share rate also increased from 0.8% in April 2014 to 2.9% in April 2015.
Australians are more likely to engage with video campaigns than a lot of other countries around the world, with click-through (+37%), interaction (+15%) and complete rates (+1%) all higher than the global averages. Average mobile CTR (+86%), interaction (+40%) and complete rates (+31%) also exceed the global average.
Unruly conducted the research while creating an algorithm to predict the virality of ads before they are launched, based on more than 100 variables.
In developing the product for Australia, Unruly was advised by Dr Karen Nelson-Field of the Ehrenberg-Bass Institute for Marketing Science, based at the University of South Australia. "Emotions are at the heart of good content, not just from a shareability perspective but the fact that emotional content cuts through the clutter and gets remembered – being remembered is vital for sales," Nelson-Field says.
Unruly's Australia and New Zealand MD Lance Traore says that the launch of Unruly ShareRank can help brands understand the building blocks of social success: "By constructing a localised set of data as to how consumers react to different emotional and brand stimuli, Unruly can help advertisers apply the science of sharing to their paid media campaigns."
BBC Worldwide ANZ appoints new director of channels
Tim Christlieb has been appointed as the new director of channels for BBC Worldwide Australia & New Zealand, where he'll lead the programming and acquisitions strategy across BBC Worldwide ANZ's portfolio of locally managed channels: BBC First, BBC UKTV, BBC Knowledge, BBC CBeebies in Australia; and BBC UKTV and BBC Knowledge in New Zealand.
Christlieb joined BBC Worldwide ANZ in May 2012 as head of programming and production, becoming the head of channels in October 2013. He originally joined the ANZ team from London where he was BBC Worldwide head of scheduling for the Nordics and Italy for two years.