Media Monday: It takes two to tango: Seven and Nine leave Ten's SYTYC Dance on the sidelines
It's Monday, there's a media industry, so lets get straight into it shall we?
There was a clear winner in the TV network ratings battle last night, with Seven taking in a whopping 35.9% share of the total audience followed by Channel Nine's with 18% (less than half of Seven) and Ten's 9.4% falling just behind ABC1's 9.5%. Good grief!
Ten's new So You Think You Can Dance appears to be struggling a bit with its audience dropping for the third time. The numbers dropped to 313,000 last night when the show went up against My Kitchen Rules and The Block. The show launched to an audience of 466,000 last Sunday which then fell to 365,000 by Monday.
Seven didn't quite enjoy the blockbuster success it has last week with the second instalment of telemovie,  INXS: Never Tear Us Apart with 1.768 million viewer by the second half of the show. But it's crown jewel My Kitchen Rules was the most watched show of the night with an audience of 1.863 million.
Seven's Sunday Night (paid) interview with Rachel Louise, (girlfriend of convicted killer Simon Gittany), was third for the night with 1.684 million metro viewers.
News Corp Australia's News.com.au is Australia's most read website once again according to the latest Nielsen data. News.com.au has had a rough couple of months with the news site losing its editor Luke McIlveen and a number of key staff to new competitor, Mail Online.
According to Nielsen, News.com.au topped the rankings in January after coming in second in November and third in December last year. Current data shows the site is enjoying an audience of 2.767 million closely followed by Fairfax's smh.com.au with 2.751 million and Mi9′s Ninemsn on 2.454 million.
Mi9 and Daily Mail Group formed a joint venture to launch the Australian version of Daily Mail in earlier this year, pairing two staunch anti-paywall publishers to bring one of the most visited newspaper sites in the world to our shores. Speculation continues that  Ninemsn and Mail Online will push for their numbers to be brought together on the Nielsen Rankings guaranteeing them the highly prized top spot.
General manager of News.com.au Julian Delany said in a statement: "What a great way to start the year. We were consistently the number one news site in 2013 and to regain the top spot is a testament to the exceptional team we have here at News.com.au, they know and understand that our consumers want current and succinct news that helps them get to the facts faster."
The latest results will certainly mean happy days for new News.com.au editor, Daniel Sankey, who defected from his role at Fairfax only a few weeks ago to take on the role after McIlveen's exit.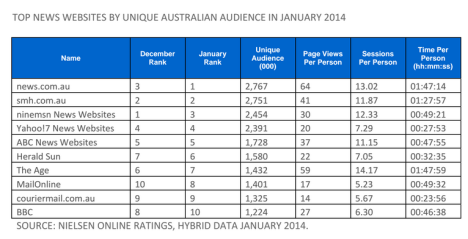 The Guardian and Buzzfeed Australia just missed out on making the top 10, the newcomers recorded audiences of 1.131 million and 1.120 million respectively.
Fairfax has announced it's weekend broadsheet papers, The Sydney Morning Herald and The Age, will move to the compact format already used for weekday editions on March 1.
The company's Australian Publishing Media managing director, Allen Williams, said the change was a continuation of a format change that had been well-received by readers and advertisers.
"While the shape of The Sydney Morning Herald and The Age weekend editions will change to a more convenient format, our commitment to quality, independent journalism and providing our readers with a depth of content, will not change," Williams said.
The magazine market has continued to report stable audiences in the last three months, showing readership growth of 1%, according to new monthly data from EMMA (Enhanced Media Metrics Australia).
In the six months to December 2013, Australians spent $357 million on magazines and 67 million copies were sold, according to the latest circulation data from the Audited Media Association of Australia.
In the 12-month period to December 2013, Australians spent $740 million on magazines with 139 million magazines sold.
EMMA data showed the continued strength of mass women's magazines, including the Australian Women's Weekly and Better Homes & Gardens both reaching more than 2.4 million readers each. In addition, weekly magazine titles Woman's Day (2.1 million) and New Idea (two million) collectively reach a significant audience of Australian women.
The data also showed strong readership in niche magazine categories, such as the homemaker category which attracts 5.7 million readers, the entertaining & food category which reaches more than four million readers and the health and celebrity weekly categories which each have a combined 2.3 million readers.
In addition, the men's lifestyle category is also showing signs of growth, but it seams cars trump muscles with mens lifestyle mags attracting almost 1.8 million compared to an audience of 2.5 million readers for its motoring counterparts.
There were also some healthy increases in magazine circulation, including Family Circle which increased sales by 26.4%, Real Living up 8.1%, Australian Property Investor up 16.8% and Russh up 5.6%, demonstrating the power of magazines to engage with specific audiences.
Magazine Publishers Australia (MPA) executive director Robin Parkes said in a statement today: "The figures for both readership and circulation still show the power of magazines' reach and the high levels of consumer interest. Readers are still showing an appetite for buying printed editions of magazines because they offer such a great reading experience.
Australian consumers still love their magazines with 93% of adults reading magazines and 11.6 million magazines sold in Australia every month.
"As an industry, we continue to demonstrate to advertisers the true power of magazines, both in size of audience and depth of engagement across platforms. The recent launch of our real time performance tool 'mapp', that allows agencies to demonstrate proof of performance, has been well received."
Way to go, magazines!