Media Monday: Residents in regional cities crave local news, TV dominates screentime
In Australian media news this week, Roy Morgan data shows people in mid-size Australian towns want local news more than people in larger cities, TV continues to dominate screentime, real estate website Domain posts strong growth figures, and The Big Issue is set to sell its 10 millionth issue this month as it reaches its 19th anniversary.
Mid-size towns crave local news
More than half (51%) of Australians want to see, hear or read local news at least once a week, according to figures from Roy Morgan.
The figures show the bigger the city, the less interest in local news. For example, residents in Hobart and Adelaide craved local news 64% and 54% respectively, while only 46% of people in Sydney, and 47% in Melbourne, did.
The regional cities with the greatest interest in local news were:
Launceston (71%),
Albury (69%),
Ballarat (63%),
Cairns (63%), and
Townsville (60%).
Roy Morgan Research CEO Michele Levine says:
"These mid-sized places represent a space between city and rural that is often misunderstood, or even unacknowledged, by marketers. These towns represent a worthwhile potential market for Australian and international businesses looking to expand beyond a competitive, city-centric view and capitalise on owning smaller markets. But to do this, you first need to understand them deeper than simply as 'non-capital-city' residents."
Click graph to enlarge.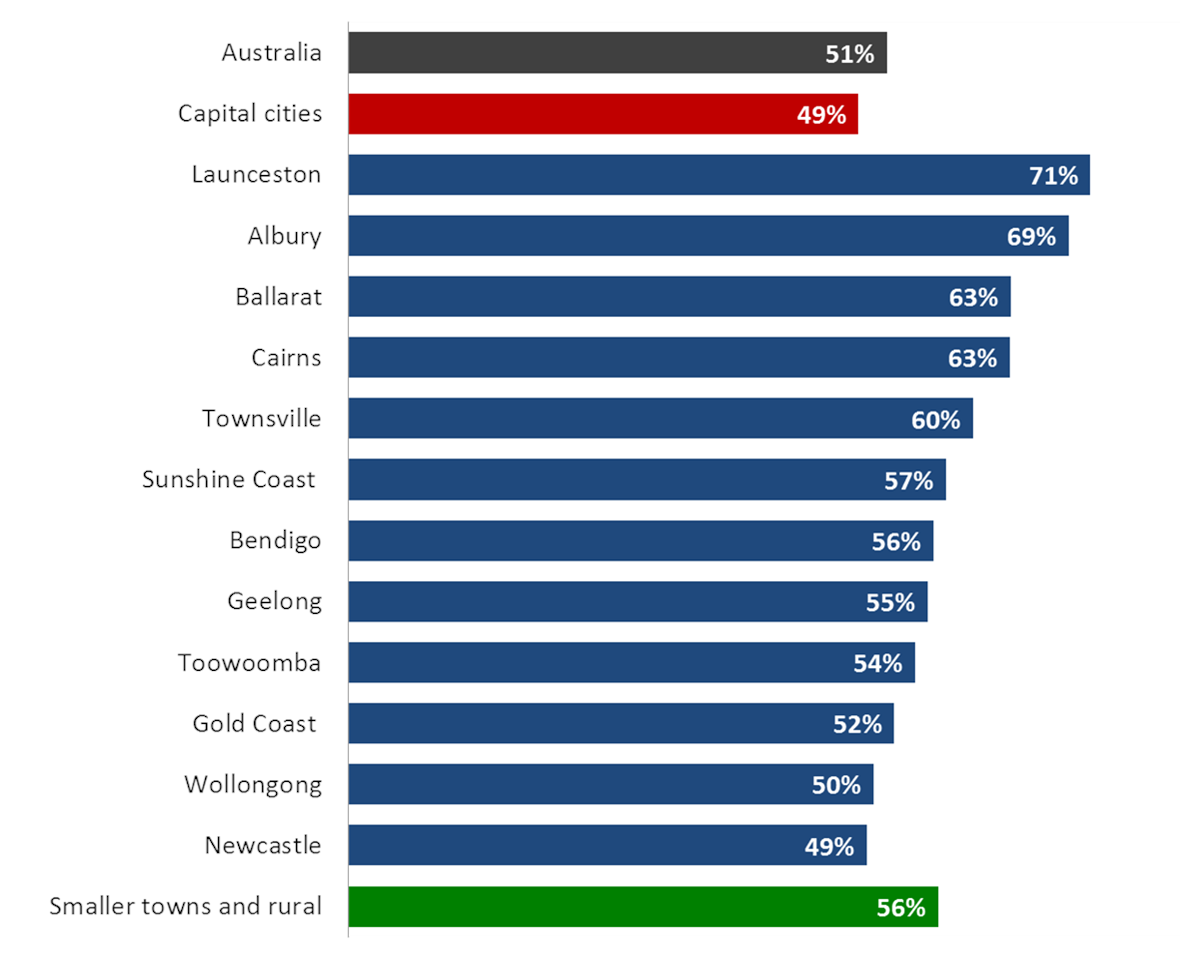 TV continues to dominate screentime
Television accounts for more than 88% of Australians' total screen-time, according to the latest Multi-Screen Report for Q1 2015. The report found:
Australians watch 89 hours and 28 minutes of broadcast TV on a TV set each month,
live TV accounts for 91.6% of viewing,
88.4% of video content consumption is from watching TV on a TV,
11.6% of video content consumption includes watching video content, including TV, movies and YouTube, and
TV's average weekly reach has remained unchanged at 88%.
Domain catching up to Real Estate
Real Estate website Domain.com.au has recorded a record 7% month-on-month growth and claims it is "rapidly closing the gap" on market leader realestate.com.au.
The findings from the latest Nielsen Online Ratings show Domain has experienced "exponential" unique audience growth in the past six months, with May average daily unique browsers up 69% to 451,890, setting an all-time record for the site.
Domain's unique audience has grown 51% year-on-year, while REA Group has grown 10%.
"We have grown the Domain Group very aggressively in the past 12 months," Domain Group CEO Antony Catalano says.
The Big Issue to sell 10 millionth magazine this month
Social enterprise magazine The Big Issue will celebrate its 19th anniversary and sell its 10 millionth magazine this month.
The fortnightly magazine provides employment to homeless and disadvantaged people as street sellers. Editor Alan Attwood says The Big Issue is a success story despite the dramatic decline of print media around the world.